Nana Upstairs, Nana Downstairs
by Tomie dePaola
A charming reminiscence of the author's close childhood relationship with his grandmothers. Their bond is sweet and heartwarming, and even Nana Upstairs' eventual death is handled gently and touchingly.  "Although dePaola's book is a nostalgic tribute to his own family, its theme--that not only people but our love for them survives in our memories--is universally true and important." (Booklist)
And if you love this book (which you will), you should also check out Tomie dePaola's early chapter book series, 26 Fairmount Avenue, which goes into more details on his childhood and his relationship with his nanas. It's adorable!


Reading Levels
Interest Level:  PreS-Gr. 3   /   DRA Level:  20   /   Lexile Measure: 530L   /   Grade Level Equivalent:  3.7   /   Guided Reading:  L 
Below are two sample pages from inside this book, both describing and showing little Tommy's interactions with his Nana Upstairs, with whom he had a special bond. Each Sunday on their weekly visit, Tommy would run upstairs right away to see her (left). So adorable!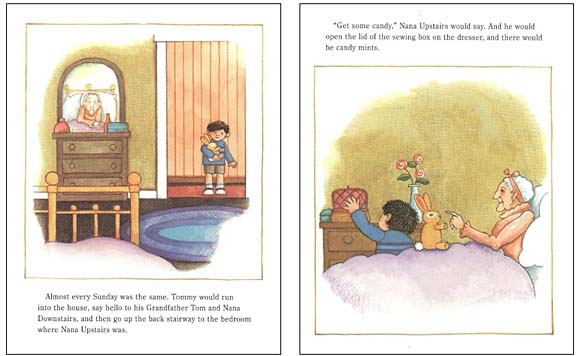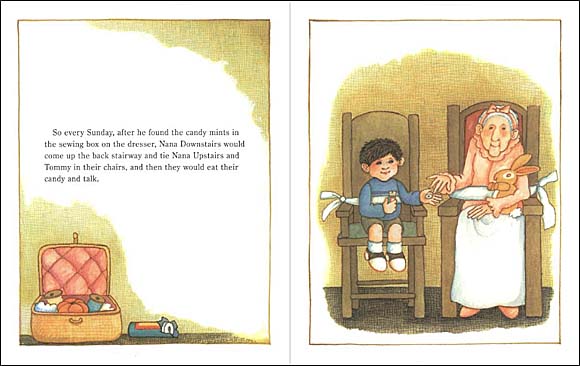 Where to now?
Now that you've seen this great book, what would you like to see now?  Please note that as an Amazon Associate, we earn from qualifying purchases.
We LOVE Tomie dePaola books. LOVE them. The illustrations are so adorable and the stories really capture kids attentions!  To see more books by Tomie dePaola, click on the book covers below or on the author's name above. :)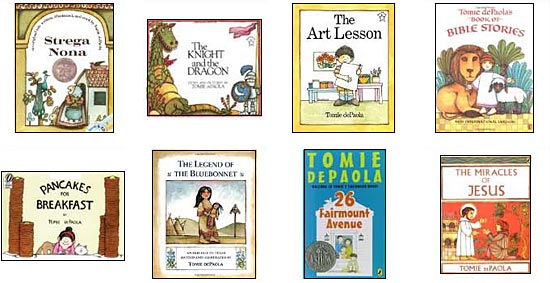 Or, if you like this book, check out our full list of books about grandparents.