26 Fairmount Avenue

by Tomie dePaola
26 Fairmount Avenue is a series of ADORABLE early chapter books by the much loved children's book author and illustrator Tomie dePaola.
His first chapter book ever, 26 Fairmount Avenue, was such a hit with fans and critics that dePaola followed it up with seven sequels... each one as absolutely delightful as the first!
This is definitely not a book heavy on plot. Instead, it is a gentle story that provides a glimpse into little Tomie's childhood and into life in the late 1930s as seen from the eyes of an energetic little boy. This title, and the entire series, tells the cute story of Tomie DePaola's childhood in the 1930s and 1940s. 

dePaola writes in an authentic, childlike voice and focuses on the details that a child of that age would notice. Once you read this book, like us, you will be excited to read the next in the series, and then the next one after that. There are eight books total, each as charming and endearing as the former.
The first book is "a thoroughly entertaining and charming story" (School Library Journal), focusing on the construction of dePaola's family house on, you guessed it, Fairmount Avenue, including many of the problems they had to endure (ie: a hurricane!)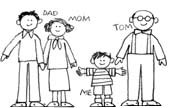 These books are quite short and could be read aloud to a class in under two weeks (if you read a chapter a day.)  Then...you can launch right into the next one!  And, Tommie dePaola has put out a "comprehensive educator's guide" for his books...and it's free. :)   Just click on the link.

Awards Won by this series

Reading Levels for 26 Fairmount Avenue

Interest Level:  Grade 2-5          DRA Level:  30-34              Lexile Measure: 760L
Grade Level Equiv:  3.8             Guided Reading:  N
See Inside 26 Fairmount Avenue

These books are chapter books, not a picture books. However, there are small black and white illustrations in virtually every spread, each one adding additional fun and information to the content of the text. This illustration below is from the first title and depicts Tomie with Nana Upstairs, who is lovingly tied to her chair each day by Nana Downstairs so that she doesn't fall out. Tomie, who has a special relationship with Nana Upstairs, requests the same treatment when he visits, although his bow is tied in the front so he can easily get into and out of the chair. His relationship with his grandparents is adorable!



To learn more about this series, click the link below.  Please note that if you purchase an item from Amazon, they give us a small referral fee. (This helps pay for site hosting costs, thus allowing us to keep everything free for site visitors!)


26 Fairmount Avenue Series

There are eight books in the series. Together, they cover about a ten year period of dePaola's childhood years. Below are the books of the series, in order, plus the book cover of each one:

(1) 26 Fairmount Avenue
(2) Here We All Are
(3) On My Way
(4) What a Year!
(5) Things Will Never be the Same
(The War Years)
(6) I'm Still Scared (The War Years)
(7) Why? (The War Years)
(8) For the Duration (The War Years)
We are about half way through the series and will write a short review of each book once we have completed all eight books. In the meantime, find out more about them by clicking the link above.


Where to now?
Now that you've seen this great book, what would you like to see now?  Please note that as an Amazon Associate, we earn from qualifying purchases.