Witness by Karen Hesse

Witness is a powerfully told story of how the residents of one small Vermont town reacted to the arrival and infiltration of the Klu Klux Klan in the early part of the 1920s. Written entirely in free verse (just as in her exceptional title Out of the Dust), Karen Hesse presents 11 different community members, each speaking in first person about their views and interactions at this tense time.
Each character has a different view about African Americans and a different approach to dealing with the changes they see in their town. And each character speaks with a distinct voice, making this a good book to use when teaching this trait in Six Traits lessons.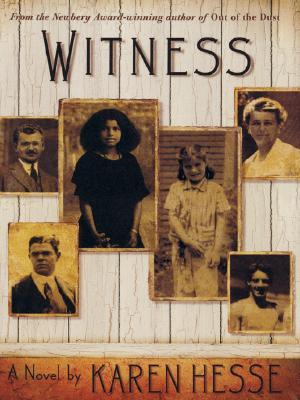 Reading Levels
Interest Level: Grade 6+ 
Reading Level: young adult

Topics Covered
-Tolerance and Non-Discrimination (Character Ed)
-Life after abolition--early 20th century (US History)
-Six Traits of Writing--Voice (Language Arts)
-Free Verse Novels (Language Arts--Poetry)

Awards & Rating
-ALA Notable Children's Book 2002
-National Council of Teachers of English Notable Book 2002
Lesson Idea: Readers Theater
This book makes an exceptional and emotional readers' theater. In fact, the book is written in five acts, making for natural divisions for different days. We have heard a number of teachers attest to this Witness lesson idea, and even found some customer reviews on Amazon saying the same thing!  (If you are going to have students also do the graphic organizer activity below, have them stop at the end of each act to jot down notes about the different characters.)

Activity Idea: Graphic Organizer of Views
Witness presents the wide range of personal views regarding African Americans that were present in early twentieth century America.  Have students graphically depict the spectrum of acceptance vs. hatred that is shown in this book on either their own graphic organizer or one provided by you. The graphic organizer could be as follows:


This would be in the middle of a legal size paper, perhaps with labels inside the bar (I've shown them outside due to the smaller size available) and then have students make lines to eleven different circles--one for each character, placed appropriately on the spectrum based on their views.

There are eleven main characters (shown in pictures at the front of the book), and the students will need to read the book to know where to place the character on the spectrum. Each character circle should include their name, their role/job in the community, and at least three supporting pieces of information (quotes, actions...) to justify why the character was placed where it was on the spectrum. Students should take notes throughout the reading so that near the end they will clearly understand where to put the different characters and have their supporting evidence ready.



Looking for more American History books for kids?


See our SALE historical fiction books

Just $2.75 each!  Check out our list of great kids books about Native American culture. We often have this fantastic book in our inventory.  If we don't currently have this exact book today, there are likely lots more good books to choose from about this particular topic, and they are all at 50% or more off retail prices!