Where the Mountain
Meets the Moon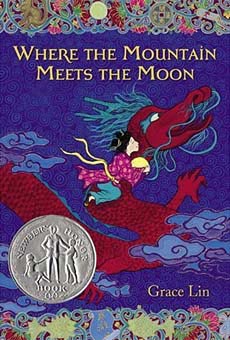 Where the Mountain Meets the Moon
by Grace Linn
Minli lives with her parents in a ramshackle hut in a the valley of Fruitless Mountain. In the evenings, her father regales her with folktales about the Man on the Moon, who knows the answers to all of life's questions.
Inspired by these stories, Minli sets off on an extraordinary journey to find the Man on the Moon and ask him how she can change her family's fortune. Along the way, she encounters characters and magical creatures, including a dragon who accompanies her on her quest.
This title is a fantasy crossed with Chinese folklore and is actually sort of reminiscent of The Wizard of Oz. In their review, Booklist called it "a timeless story about the evil of greed and the joy of gratitude.
Awards Won by this book

 - 2010 Newbery Honor
 - New York Times Bestsellers List
 - Bank Street College of Education Josette Frank Award 2010
 - Booklist Top 10 SF/Fantasy for Youth:2009
 - Parents' Choice Gold Winner 2009
 - CCBC Choices List 2009
 - EB White Read-Aloud Honor Book 2010
Reading Levels

Interest Level:  Gr. 3-6              DRA Level:  50             Lexile Measure: 1050L
Grade Equivalent: 5.4             Guided Reading:  T
Each chapter starts with an illustration!

What an extra treat!  Each chapter begins with a beautiful full color drawing, also done by author Grace Linn. They really are stunning and add so much to the reading! To see larger versions of these samples, simply click on the images.



Lesson / Activity Ideas

The author has created an activity book full of lesson ideas and activities to go along with this book. It's available in a downloaded format here:
Where the Mountain Meets the Moon lesson / activity ideas

---

This book was an honoree for the prestigious Newbery Award for best children's literature. We have a list of the Newbery Award books. Check them out.