The Underneath


The Underneath
by Kathi Appelt & David Small

A calico cat about to give birth is befriended by a hound dog named Ranger, who urges the cat to hide under the porch--'the Underneath' --as she raises her kittens. That way they'd be safe from the cruel man of the house, who would surely feed them to the alligators if he found them. The cat agrees, and they're safe under the porch until the fateful day when one kitten's curiosity leads him outside the safety of the porch, setting off an astonishing, nail-biting chain of events.
This book is a harrowing yet sweet tale about the power of love--and hate--and the importance of keeping your promises. We love how powerfully it captures the sights, sounds, and characters of the Louisiana bayou.

Warning: This book contains violence, animal abuse, and death!  The illustration on the book cover is a bit misleading. This is definitely not a "cute" animal story. This title will likely be too harsh for many kids, particularly animal lovers. You may want to read it yourself first and recommend it with care!
Awards Won by this book

  - Newbery Honor Book
  - American Library Association Notable Children's Book Nominee
  - American Library Association Notable Children's Books
  - New York Public Library 100 Titles for Reading and Sharing List
  - National Book Award Finalist
  - PEN USA Literary Award for Children's Literature
Reading Levels for this book

Interest Level: Gr. 4-8             DRA Level:  60                Lexile Measure:  830L
Grade Equivalent:  5.4           Guided Reading:  Y

Book Covers Available

We found two available book covers for this book, but the one on the left (light yellow) is by far the more widely used version. And...it's generally the one with the big shiny 'medals' on them. Gotta love those medals.  :)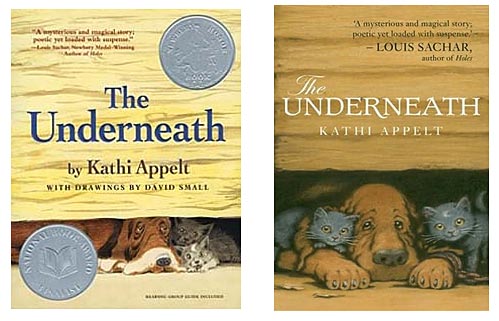 The Underneath Lesson / Activity Ideas

'Voice' Extension Activity
This book provides a good example of the importance of 'voice' in writing, as the story is told through very unique narrators (birds, animals, reptiles...) Once students have read this book, have them write their own short story written from the point of view of an animal (family pet, wild animal, etc), and instruct them to make sure their voice is in keeping with their chosen animal narrator. They will have this book as their mentor text, so they will feel confident to really stretch themselves in this activity.

Reader's Guide
Also, you can find a reading group guide created by the publisher at the following link:  The Underneath guide



---

This book was an honoree for the prestigious Newbery Award for best children's literature. Click to see the full list of Newbery Award Winners.