The Hello Goodbye Window

written by Norton Juster
illustrated by Chris Raschka
The Hello, Goodbye Window is an adorable first person narrative that perfectly captures a child's emotions and perceptions, readers accompany a girl on a visit to Nanna and Poppy's house for bike riding, garden exploring, harmonica playing, and more--all starting with a peek through the 'hello, goodbye window'.
Juster (Phantom Tollbooth) clearly 'gets' how kids think and what they notice about their surroundings. His phrasing and the choice of observations are so magically childlike!  (ie: the little girl says, "I take my nap and nothing happens until I get up.") Just as a young child would imagine it. Adorable! 

Raschka's vibrant illustrations are a perfect fit for the text. They exudes a childlike quality w/ squiggly lines and exuberant bursts of color. It's not hard to imagine that this is exactly how children would illustrate their own picture book, if only they had Raschka's talent!

This book is an excellent discussion starter on what constitutes "a family" (ie: nuclear vs extended, multi- racial...). Plus, children will undoubtedly want to talk about their own experiences with grandma and grandpa after viewing this nostalgic book. In fact, this is our favorite book to use on Grandparent's Day!
Reading Levels

Interest Level:  Preschool - Grade 2         DRA Level:  18                  Lexile Measure: 760L
Grade Equivalent: 3.3                             Guided Reading: K 
See Inside The Hello, Goodbye Window

Below are sample spreads from inside this book. This first spread occurs at the beginning of the book and shows Nanna and Poppy's house. Look closely: you can see Nanna and Poppy peaking out of a window--the 'hello, goodbye window'. To see larger versions of these pages, just click on the images. :)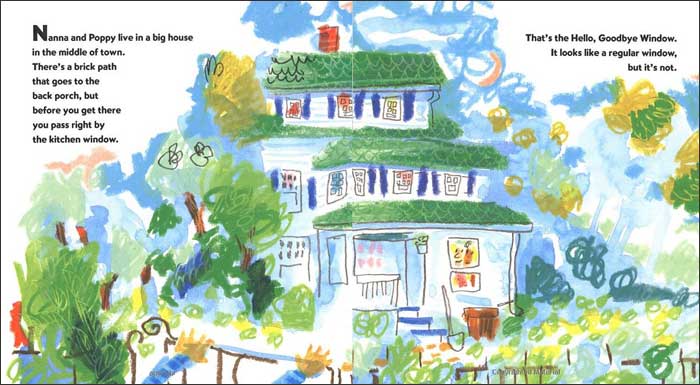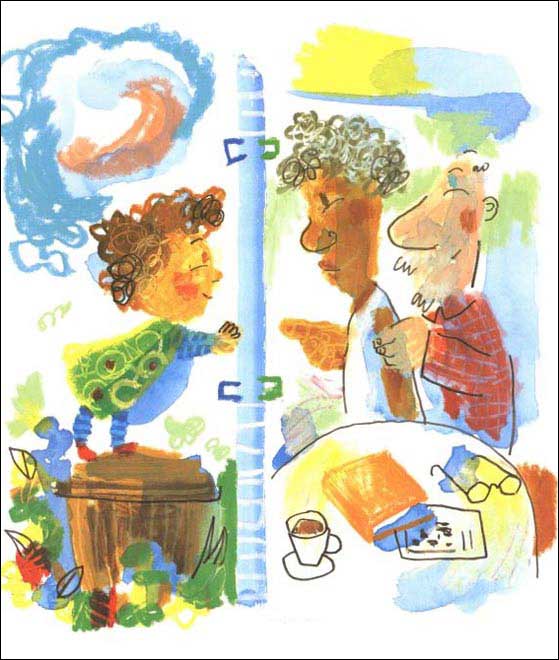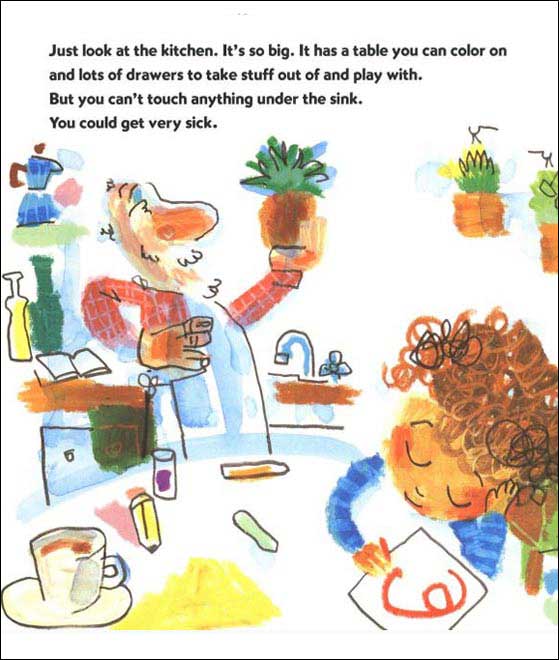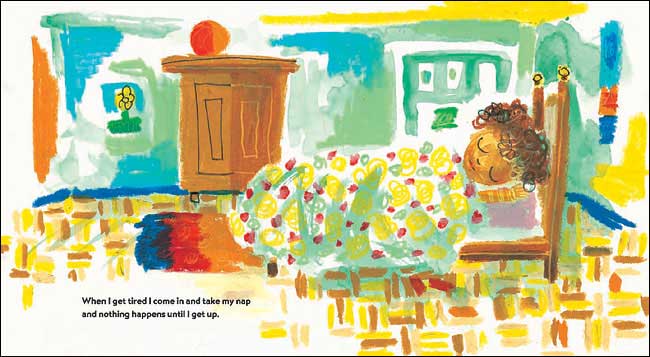 To learn more about this book, click the link below.  Please note that if you purchase an item from Amazon, they give us a small referral fee. (This helps pay for site hosting costs, thus allowing us to keep everything free for site visitors!)




Lesson/Activity Ideas

Colorful Portrait of Me & My Grandparents
Read this book on Grandparents' Day (mid-September, on the first Sunday after Labor Day) and then have your students create portraits of themselves with their grandparents--to give to them as a gift. And try these pre-project steps to encourage their best work:
After you read the book, but before starting the art project, discuss with students what they liked about the book. In our experience, one answer will most certainly be how colorful it is. Raschka's drawings have such a childlike quality that children are absolutely taken in by them. Say, "Let's try to make our pictures as colorful as those in this book. Do you think you can try to use TEN different colors in your picture?"  They will be up to the challenge. :)
Another thing students often say they like about the book is how the child describes the things that she likes to do with her Grandma and Grandpa.

Playing off this, encourage your students to have a second goal--to make their picture show something unique about spending time with their grandparents (ie...plate of cookies if your grandma always makes you cookies, a baseball and baseball bat if you like to play catch with your grandpa, and so forth...)

Then set them free on their coloring. Tell them it will be a gift so they should do their very best work! And when the portraits are done, a fun thing to do is to have them "framed" using paper frames like the one at right, blown up to the size of the drawing. (I haven't found a free frame drawing to direct you to online yet. I will keep looking, but you can also Google 'frame clip art' to see if you can find one.)  Copy them off on brown copy paper and, depending on the age of the students, have them cut the frames out themselves!



---
This is a great book, but if it's not exactly the book you are looking for, you can see: