The Gardener
by Sarah Stewart
The Gardener
written by Sarah Stewart; illustrated by David Small
It's the Great Depression, and Lydia is living in the city with her uncle to help him with his bakery. She misses her family and life on the farm, especially gardening with her grandma.
While in the city, she has planted a new garden on the roof of the apartment building, and soon Lydia and her flowers are brightening the lives of everyone around her. Told in the form of letters home.
The Gardener is one cute little multi-tasking book. Use it when teaching letter writing, the Great Depression, the power of a positive attitude, and "the vast impact one small individual can make."(PW)  David Small's charming, softly focused illustrations help keep the tone light and positive, despite the Depression era setting. And Lydia's positive disposition and lovely rooftop garden not only cheer up her uncle and neighbors; it cheers up the reader as well!
Awards Won by this book

  - Caldecott Honor 1998
  - International Reading Association Teachers' Choice Book
  - New York Times Notable Children's Book
  - Publisher's Weekly Best Children's Book of the Year
  - School Library Journal Best Children's Book of the Year
  - American Library Association Notable Book 1998
  - National Council of Teachers of English Orbis Pictus Award
Reading Level for The Gardener

Interest Level: K-Gr.3             DRA Level: 24                Lexile Measure: AD570L
Grade Equivalent: 3.5           Guided Reading: M
See Inside this book

Below are sample spreads from inside this book. What darling illustrations! Once we read this book, we were eager to discover more titles illustrated by David Small.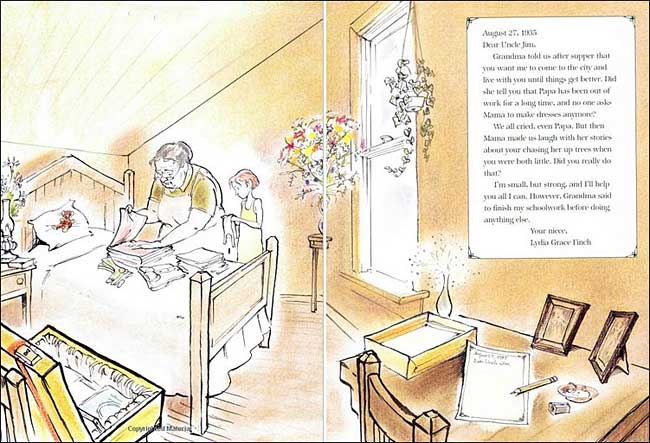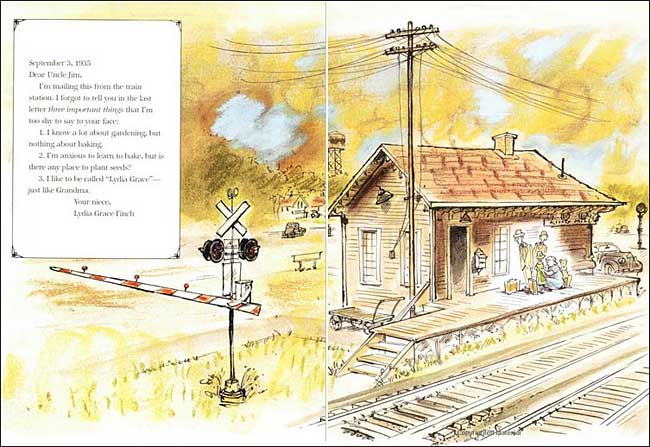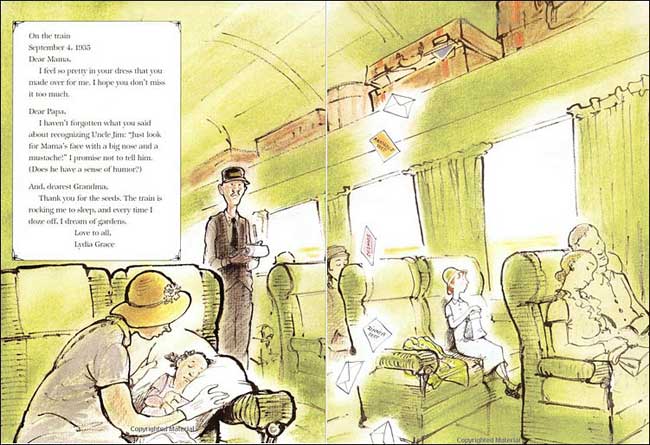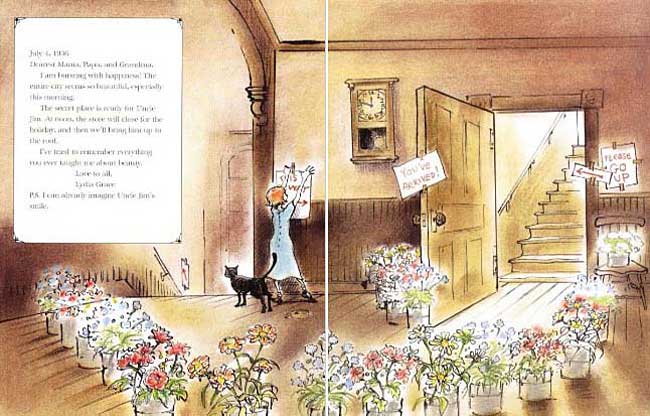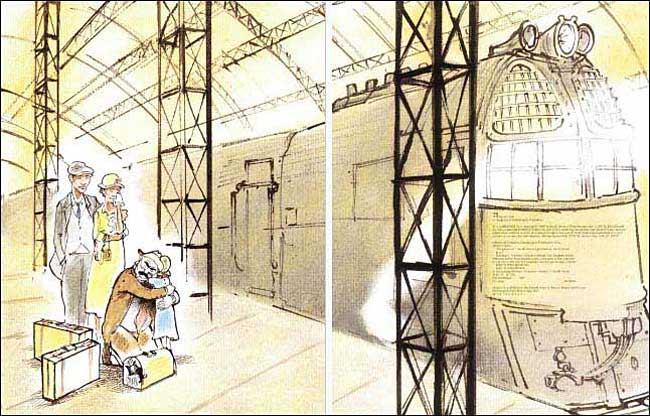 To learn more about this book, click the link below.  Please note that if you purchase an item from Amazon, they give us a small referral fee. (This helps pay for site hosting costs, thus allowing us to keep everything free for site visitors!)

The Gardener Lesson/Activity Ideas

Writing/Art Activity Idea:  'Spreading Happiness' Flowers Card
In the book, the main girl brings happiness and cheer into the lives of those around her-- especially her uncle-- with kindness and with flowers. Since this book is written in the form of letters, why not combine the two components (letter writing and spreading happiness with flowers) with this activity.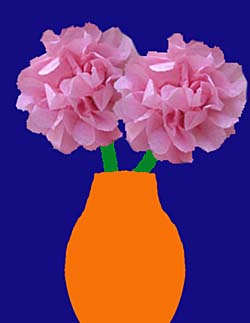 Read the book to the class.
Have students make a flower picture with
   -- tissue paper flowers (instructions here)
   -- construction paper for vase, stem, back
On an 8.5x11 white paper, have students think of someone that may need to be cheered up (ie...grandma, neighbor, or just someone they'd like to give a letter to)
Glue the letter to the back of the picture.
The tissue paper flowers are very easy to make and the kids will be very proud of themselves!!! And by turning the picture into a letter, this activity builds on the spirit of the book (spreading cheer, giving flowers) and also provides a letter writing activity.
Classroom Idea: Introducing Flowers to your Classroom
If you've been thinking of adding a few flowering plants to your classroom, this book can be a fun way to introduce the plants and get the students interested in taking care of them. Read the book, talk about the flowering plant, and maybe even make watering them one of your classroom jobs.  :)



---
This is a great book, but if it's not exactly the book you are looking for, you can see:
click to check out books by David Small