Snowflake Bentley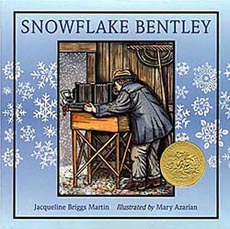 by Jacqueline Briggs Martin
illustrated by Mary Azarian
A stunningly illustrated picture book biography about a Vermont farm boy named Wilson Bentley who loved snowflakes and spent hours taking thousands of photographs that reveal the beautiful structure of each tiny flake.

Martin captures Bentley's passion and dedication in text that is infused with wonder, and the beautiful woodcut illustrations are a perfect complement to the story.  This title is perfect for wintry days, especially given all the interesting facts about snowflakes that are sprinkled throughout, this increasing the educational value of this fine book and making it a perfect lead in to any snowflake craft activity.


Awards Won
 - Caldecott Medal 1999
 - American Library Association Notable Children's Book 1999  
 - National Science Teachers Association Outstanding Science Book 1999


Reading Levels
Interest Level: K-Gr. 2           DRA Level: 30                   Lexile Measure: 830L
Grade Equivalent: 4.1          Guided Reading: N



See inside
Here are a few sample pages from inside Snowflake Bentley. Mary Azarian's woodcuts are tinted with watercolors and charmingly evoke life in rural 19th century New England. They are also fittingly detailed for a book about a man who loved the intricate details he found in nature.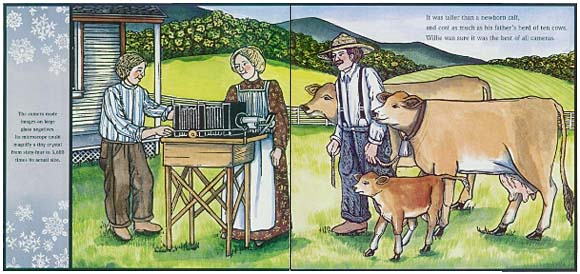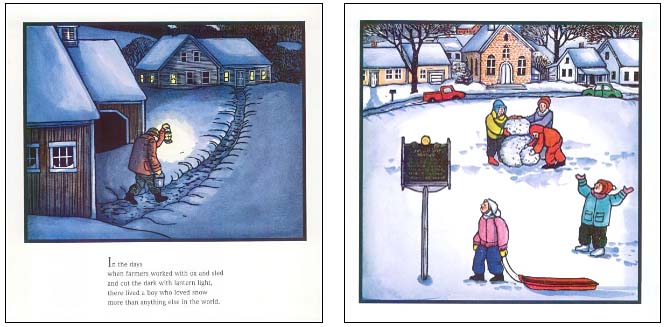 To learn more about this book, click the link below.  Please note that if you purchase an item from Amazon, they give us a small referral fee. (This helps pay for site hosting costs, thus allowing us to keep everything free for site visitors!)

Snowflake Bentley Lesson Ideas

This book is a great lead in to a lesson on winter weather and snowflakes. Read this book to you students, then extend the learning by slowly perusing and discussing the photographs in one of the following books of Bentley's actual snowflake photographs. You can finish up the lesson by having the students make their own paper snowflakes, putting them up on the board, and then discussing how, just like actual snowflakes, no two paper snowflakes are exactly alike. Draw attention to how much diversity there is in just those paper snowflakes made by your class and how that diversity in snowflakes is found in nature as well.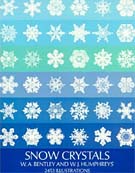 Snow Crystals
by W.A. Bentley

A collection of 2,000 micro-photographs of snowflakes, plus some images of frost, dew, and hail. For more on this book, click here.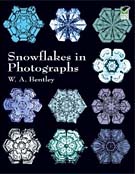 Snowflakes in Photographs
by W.A. Bentley

850 large illustrations of snowflakes taken by Bentley over a 50 year period. For more details, click here


Also check out the following web pages for more ideas.

http://www.nashua.edu/novakc/Snowflake/snowflake2.htm

http://www.vickiblackwell.com/lit/bentley.html
---


You may also want to check out other books by Mary Azarian, such as those shown below. To learn more, click on the images below or here.  :)