Our Only May Amelia
by Jennifer Holm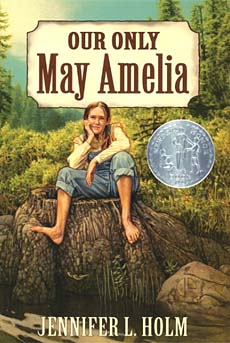 Our Only May Amelia
It's not easy being a pioneer in 1899-- especially when you're not just the only girl in your family; you are the only girl ever born to the entire settlement. May Amelia Jackson has seven older brothers and she's no "Proper Young Lady", everyone seems to want her to be one. She likes adventures, wearing overalls and climbing trees, going fishing, and proving that she can do anything her big brothers can do.
This title is great for supplementing Frontier units, as it is packed with small details about rural life along the Nasel River (where May Amelia's family lives) as well as details about life in a bustling frontier city (nearby Astoria) at the turn of the century.
May Amelia is a plucky little heroine, impossible not to like and readers will get drawn into her story from quite early on in the book. Publishers Weekly said that this Newbery Award winning book "is not to be missed." We agree!
Awards Won by this book

Reading Levels for this book

Interest Level:  Grade 4+       
Grade Level Equivalent:  6.5
Guided Reading Level:  R
DRA Level:  40
Lexile Measure:  900L

Our Only May Amelia Lesson / Activity Ideas

Create an issue of "The Astoria Gazette"
Have students create a newspaper issue about events in Our Only May Amelia. Tell them not to worry about the timing of events. They can report on anything that happened in the book in their issue, even if the events happened far apart in time.  Provide specifics on what the student should include in their newspaper. For example, you could require the following:

a masthead and photographs   
something mapped out   
an interview with one character   
obituaries [ although that's a bit grim, eh? :) ]

an article for newcomers about what to expect when living in the Nasel region   
an article about the what Astoria was like at the time
If you want to provide a newspaper template to your students, you can find them online. Just Google "newspaper format for kids" or direct them to do so. :)

Mapping the Book
On a large poster board, have the student re-draw the map at the beginning of Our Only May Amelia, then add at least 20 events from the story onto their map. Inform them that a person can be shown in more than one place at a time, and that if the location is vague (ie: "in the river"), they should just depict the activity somewhere that is logical.
At right is one half of the map, shown for your reference. Sorry we can't show all of it...they only have half the map scanned into Amazon.com. But, we figured we'd show you this part just so you get an idea of what the interior map looks like. :)

Note: If you are going to have students do this project, you should encourage them to stop at the end of every chapter and think of any momentous things that they can add to their map. If they wait until they are done with the book, it may be hard for them to remember that many events.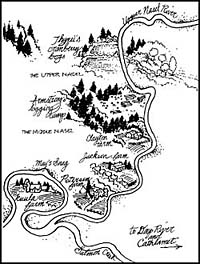 ---

This book was an honoree for the prestigious Newbery Award for best children's literature. Click to see the full list of Newbery Award Winners.



Or check out other books by this author Jennifer Holm.  Her books are always quite popular with kids!