Officer Buckle and Gloria
by Peggy Rathmann
Officer Buckle and Gloria:  Officer Buckle loves giving safety assemblies, but he's terribly boring. Then one day, Gloria the police dog tags along and acts out the tips behind Officer Buckle's back. The students laugh and cheer, and Officer Buckle thinks he's a hit...until he finds out who's really stealing the show!
Full of hilarious cartoons and numerous safety tips, this book is a great read aloud. Rathmann's characters are imbued with so much personality they're irresistible. You don't have to be a dog lover to immediately fall in love with this adorable little pooch.
This book teaches safety tips as well as the value of teamwork, but truthfully all that is secondary to how much fun this book is. Your kids will love it!
This fun book won A LOT of prestigious children's book awards, including:

  - Caldecott Medal Winner 1996
  - American Library Association Notable Children's Book
  - Booklist Best Books List 1995
  - Child Magazine Best Books List 1995
  - School Library Journal Best Books List 1995
  - Horn Book Fanfare selection
  - Parenting Magazine Best Book 1995
  - New York Public Library 100 Titles for Sharing
Reading Levels

for Officer Buckle and Gloria


Interest Level: K-Gr. 2           DRA Level: 20                Lexile Measure:  510L 
Grade Equivalent: 2.5          Guided Reading:  L
See inside this funny book

Here are a few interior pages from inside Officer Buckle and Gloria -- to give you an idea of how many words there are on each page and to show the adorable illustration style.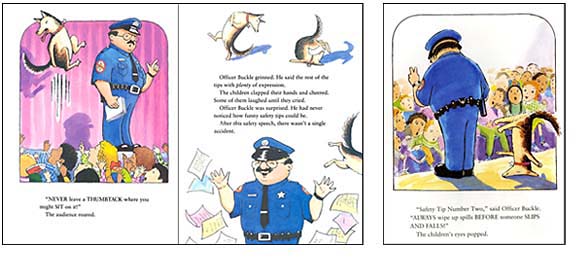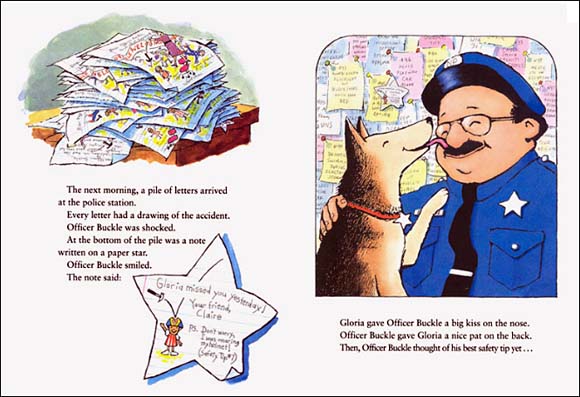 To learn more about this book, click the link below.  Please note that if you purchase an item from Amazon, they give us a small referral fee.



Officer Buckle and Gloria lesson ideas:

Lesson Idea: Make a Safety Stars Bulletin Board
Read this book to your students, then create a classroom bulletin board of safety tips, just as Officer Buckle has created in his office. Make it fun by passing out paper with a large star copied on it, have children cut out the stars (so they end up looking like the ones on the front and back end papers), then write and illustrate different safety tips.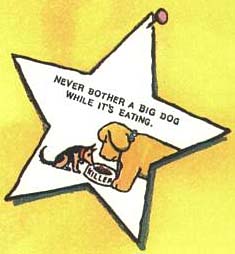 Instruct them to write the safety tip in large letters and then draw Gloria the dog acting out their safety tip like he did in the book (or acting out what happens if it's not followed). Again, examples can be found on the end papers. Students can either come up with their own safety ideas or you can assign them. (For suggestions on what to include in a safety tips list, check out the Advice section on the website McGruff.org)
The subject of personal safety certainly isn't a core curriculum topic, but squeezing it into your teaching schedule is important. All children need guidance in this area, but some children who struggle with poor judgment really need it!



---
This is a great book, but if it's not exactly the book you are looking for, you can see: