Moon Over Manifest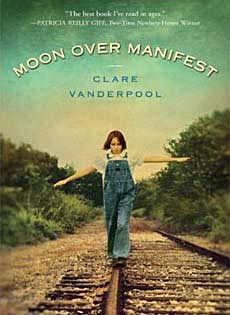 by Clare Vanderpool
Set during the Great Depression, Moon Over Manifest is the story a plucky young girl named Abilene who is spending the summer in her father's hometown while he works his new railroad job.
Having heard stories about Manifest, Kansas all her life, she's a bit disappointed at first by what she sees. Manifest looks like just another 'dried-up, worn-out' old town.
But that disappointment quickly fades when she discovers some mysterious old letters about a spy known as the Rattler.

With the help of her two new girl friends, Abilene is off on an honest-to-goodness spy hunt, and will soon discover that this old town of Manifest is a lot more interesting than she first thought!
Vanderpool weaves such a compelling mystery into this historical fiction novel that we literally could not put it down. Alternating storylines ensure that just as you're really getting into one storyline, the chapter ends and a different storyline picks up. The resulting suspense is delicious!  Booklist rightly said reading this book is "like sucking on a butterscotch. Smooth and sweet."  And SLJ said, "History and fiction marry beautifully in this lively novel...a definite winner."

Teachers will love how packed this historical fiction book is with details about early 20th century America (ie: the Great Depression, WW1, the labor movement, prohibition...) Readers get a real sense of the era through the lives of these compelling characters.
Awards Won by this book

   -Newbery Medal 2011
   -American Library Association Notable Children's Book 2011
Moon Over Manifest Reading Levels

Interest Level:  Gr. 5-8              DRA Level:  50                     Lexile Measure: 800L
Grade Equivalent:  5.3            Guided Reading: U

Moon Over Manifest Lesson / Activity Ideas

Moon Over Manifest is a fantastic read any time of the year, but it can be an especially powerful supplement to American history lessons about the era. Clare Vanderpool has masterfully woven interesting historical details throughout her novel. Readers learn tidbits about the early 20th century life and historical events through the main character's first-person narrative as well as through newspaper clippings, letters home from a World War I soldier, and stories told by Miss Sadie, a diviner. This enables young readers to see key events of the era--like the Great Depression, labor conditions, prohibition, World War I, the Klu Klux Klan, etc--through the eyes of characters so engaging and real that your students won't realize how much history they learning!  If you decide to use this title to supplement your history lessons, here are some ideas to try:


Author's Suggestions
On her website, author Clare Vanderpool includes some resources for using this book in the classroom. To access these resources (listed below), click here.
             -a reader's guide with discussion questions
             -an interesting Q&A with the author
             -an excerpt from the book
             -a link to a lesson idea (on a teacher blog)

Storyboard Activity
Submitted by Teri O, 5th grade teacher:
I had the reading group that read Moon Over Manifest put together storyboards of the book's two story lines and the results were really good!  There's so much American history in this book, and I wanted the students final project to be centered on the historical events, so I instructed the students to include at least one historical component in each picture. I let them work in teams of two and gave each team some storyboard worksheets (pages with 4 squares on them, and then lines underneath each square for a picture title and short description) and they were to create an 8 picture storyboard for each of the two story lines. (I had the handout double-sided so it was just one paper per storyline).
Where to now?
Now that you've seen this great book, what would you like to see now?  Please note that as an Amazon Associate, we earn from qualifying purchases.