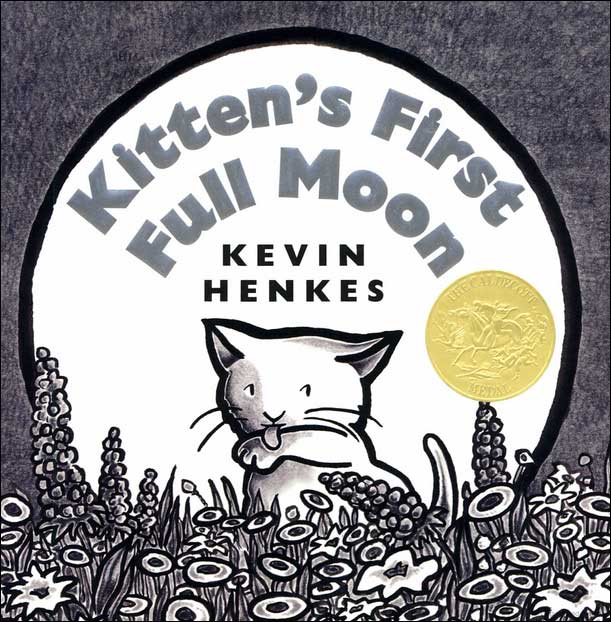 Kitten's First Full Moon
by Kevin Henkes

Kitten's First Full Moon is a simple, sweet book that tells the story of a little kitten who, upon seeing her first full moon, thinks she's found a big bowl of milk, but try as she may, she cannot reach it. She tries to lick it, jump to it, run after it...all to no avail. Will the little kitty ever get her milk?
This book is a departure from Kevin Henkes's usual style, but the simple black and white look in this book works because the "multifaceted Henkes" (School Library Journal) has imbued his kitty with so much spunk and personality. You can't help but adore her and root for a happy ending.
"The rhythmic text and delightful artwork ensure storytime success. Kids will surely applaud this cat's irrepressible spirit."  (School Library Journal)

"Henkes creates another winner in this simple, charming story...Wise preschoolers may chuckle at the kitten's folly, but they'll also recognize the mysterious power of moonlight to transform the familiar world of daytime into something altogether new."  (Booklist)


Reading Levels for Kitten's First Full Moon

Interest Level: Preschool - Kindergarten
DRA Level: 12
Lexile: 360L
Grade Level Equivalent: 1.7
Guided Reading:  G
Read-Aloud vs. Individual Reading:
This book will need to be a read-aloud rather than for individual reading, as children in preschool and Kindergarten will not be able to read the text of this book. Kids do not read on this reading level, in general, until half way through first grade.


Awards Won by Kitten's First Full Moon
     * Caldecott Medal 2005 
     * New York Times Best Illustrated Book
     * American Library Assoc Notable Children's Book

     * School Library Journal Best Books of 2005
     * Publishers Weekly Best Books of 2005

See Inside Kitten's First Full Moon
Below are four spreads from inside Kitten's First Full Moon, showing the confused little kitty running to get near to the big bowl of milk in the sky.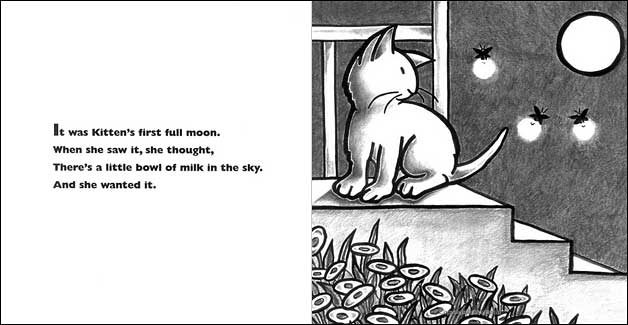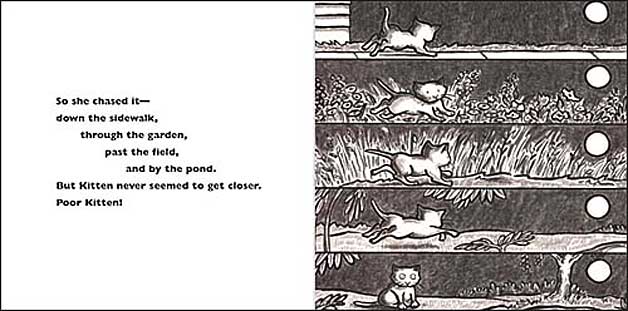 Kitten's First Full Moon
Lesson / Activity Ideas:
Given how immensely popular this book is and how many awards it has won, there are a lot of different lesson and extension activities out there to go with this book.  Of course, there are a lot available on the popular teacher website teacherspayteachers.com.  (If you aren't familiar with this site, it's full of lesson plans, activities, learning games, and other curriculum materials made by teachers. We LOVE the site!!). Here are some places to start: 

Kitten's First Full Moon activity ideas on TPT
Kitten's First Full Moon activity packet on a teacher's website