How I Became a Pirate series
by Melinda Long and David Shannon

We LOVE the How I Became a Pirate series -- our top picks on our 'best pirate books list'!  Long's witty storytelling is perfectly paired with Shannon's wild and funny acrylics.  We agree with School Library Journal, who calls it a "rollicking adventure [that's] sure to be a favorite with the story time crowd."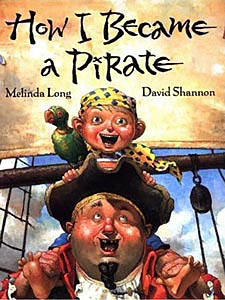 How I Became a Pirate
Jeremy is spending a day at the
beach with his family when a
pirate ship appears. Wanting to
see what it's like to be a pirate,
he boards their ship and learns
all about life as a pirate--from
ditching table matters and bedtimes
to singing 'sea chantys' and talking
'pirate talk'. This is the first in the
series and an absolute must read!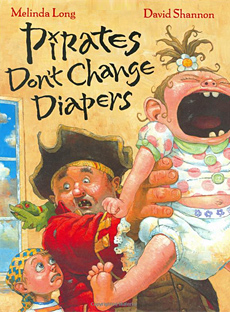 Pirates Don't Change Diapers
The pirate gang is back to pick up
their matey Jeremy and head out to
dig up a buried treasure.  But first,
Jeremy's baby sister needs tending
(including a diaper change) and the
'brave' pirates are hilariously ill-suited
to the task. Fans of the series will be
glad to see the not-quite-so-fearsome
pirates back for more antics. Love
the illustrations!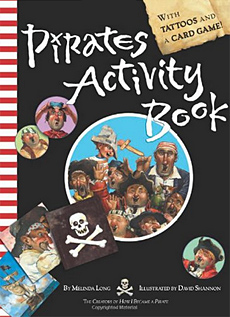 Pirates Activity Book
This 36-page, full-color activity
book includes is perhaps better
suited to purchases for individual
kids than for a classroom, but there
are some cute activities that teachers
can use.  Includes instructions on to
make a pirate goodies (like a hat, an
eye patch, and treasure chest) plus,
puzzles, songs, coloring pages, a
"Talk like a pirate" glossary, a
"Cannonball!" card game, and
temporary pirate tattoos.
Reading Level for How I Became a Pirate:

Interest Level:  Preschool-Grade 3
Lexile Measure:  470L
Grade Level Equivalent:  3.1
Guided Reading Level:  M
DRA Level:  24
Read-Aloud vs. Individual Reading:
For kids in preschool through second grade, this book will need to be a read-aloud rather than for individual reading, as the reading level will be too high for the majority of them. Some second graders may be able to read this book on their own near the end of the year, and third graders should be able to read this one on their own.

See Inside How I Became a Pirate:

Below are sample spreads from inside the first book. We LOVE David Shannon's illustration style.  Fans of the No David series or Too Many Toys or Alice the Fairy or No More Stripes or Good Boy Fergus (need we go on) will recognize his bright, fun illustrations.  The story is great, but it's the illustrations that put it over the top for us. :)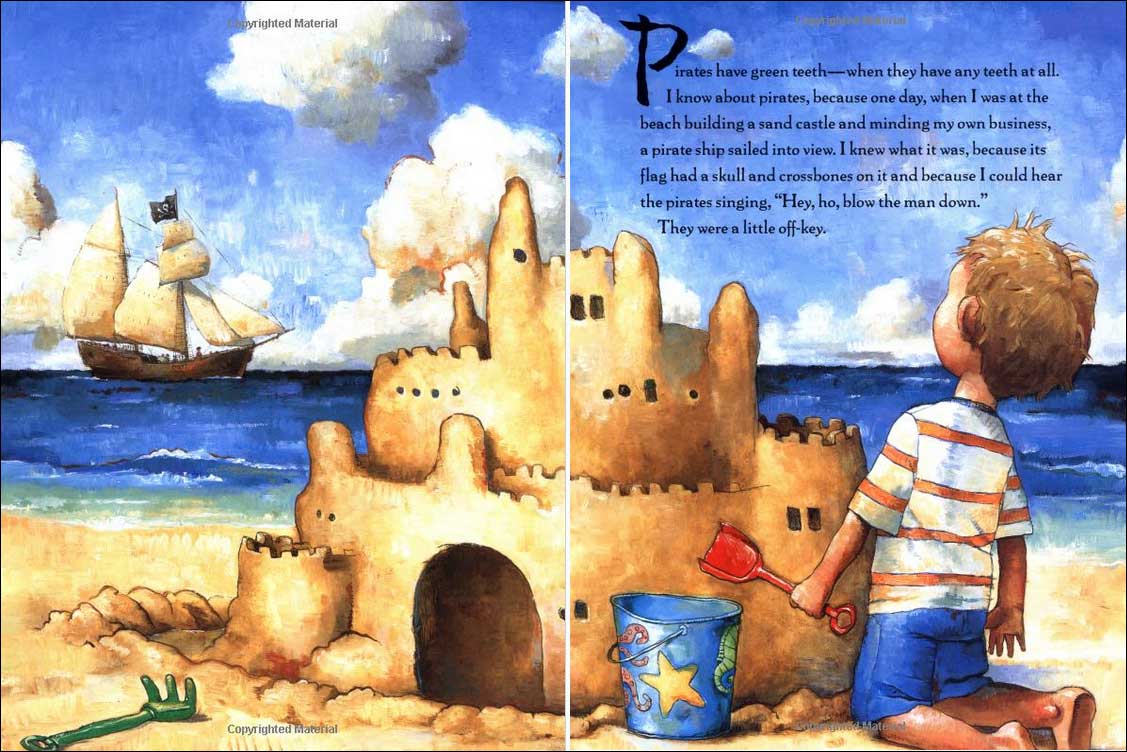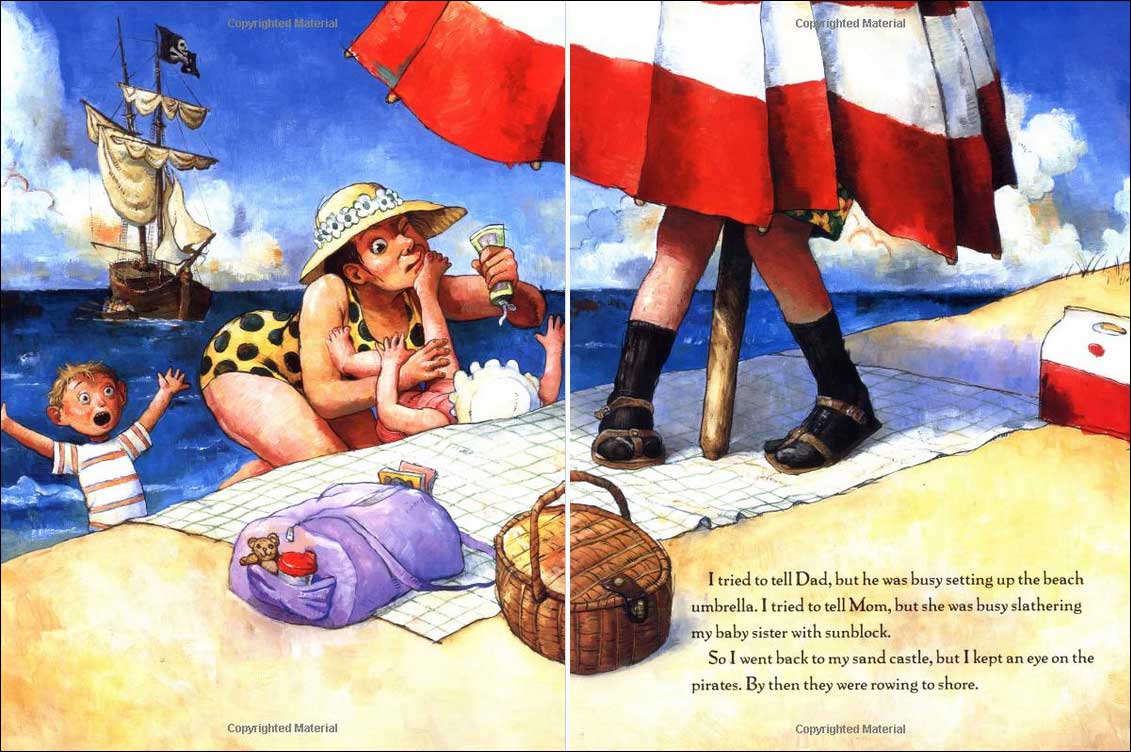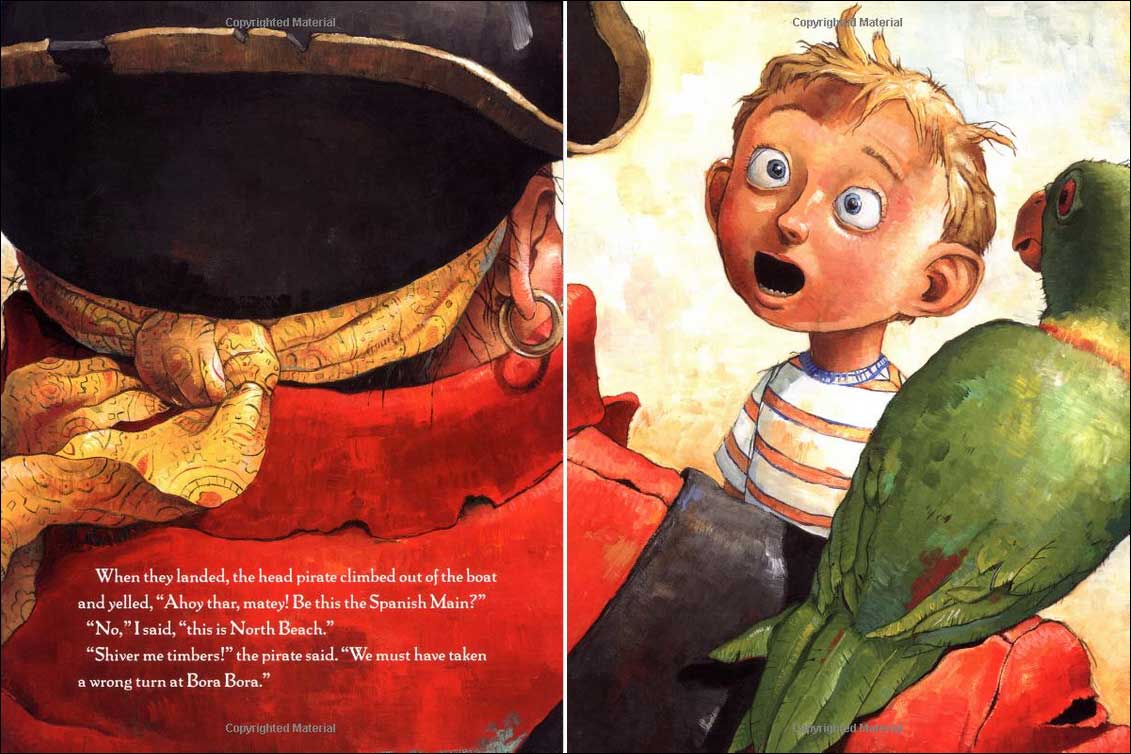 How I Became a Pirate lesson / activity ideas

There are lots of cute activities online that go with this fun book!  We found a really cute one on the blog First Grade Fairytales.  It has a pirate face craft as well as a cause-and-effect treasure chest (which we are thinking of using as a template, but changing into a pirate story mini-book.) 
Click here for details:  How I Became a Pirate lesson/activity