The Heart of a Samurai
by Margi Preus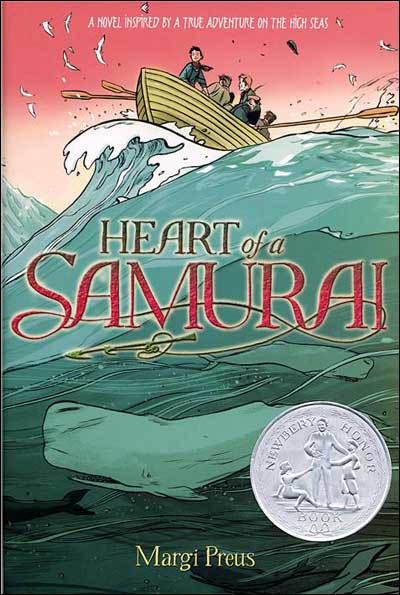 It's 1841, and a Japanese ship has just sunk off the coast of a small island. The crew swims to safety, and are eventually rescued by an American ship. Japan's borders are closed, so men must return to America with the crew. The captain sees something unique in 14-year-old Manjiro and adopts the boy, who lives with his new family for many years. Eventually he makes his way back to Japan, where his knowledge about the West proves influential in Japanese affairs.
Like the other Newbery winners for 2011, this book is full of historical tidbits! However, unlike the others, this title is about the real experiences of a remarkable young man. Having said that, this is not an adventure book. When summarized, it sort of sounds like one, but in truth it does not have the twists and turns and action-packed pages to fit that category. Don't recommend this one to an adventure book fan, unless he or she also likes historical fiction.

Awards Won
 * Newbery Award Honor 2011
 * American Library Association Notable Children's Book 2001
Reading Level
Interest Level:  Grade 4-8
DRA Level: 60
Lexile Measure: 760L
Grade Level Equivalent: 4.6
Guided Reading Level: W                     
Curriculum ties: This book is full of American and Japanese historical details, like Japan opening to the West, Japanese culture, the immigrant experience in late 19th century America (prejudice, opportunities)...
Where to now?
Now that you've seen this great book, what would you like to see now?  Please note that as an Amazon Associate, we earn from qualifying purchases.