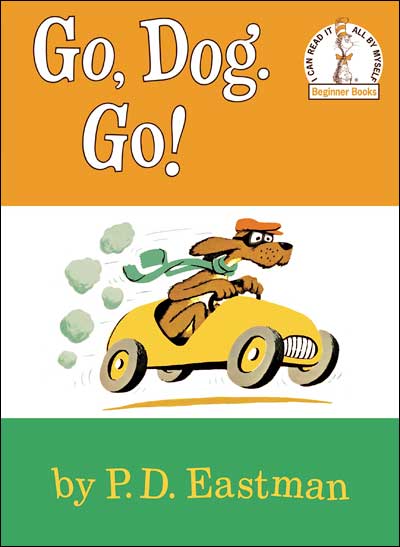 Go, Dog. Go!
by P.D. Eastman

This book is a much loved classic and it's AWESOME as a Level E / 8 reader! There's tons of repetition, lots of picture support, and the majority of the words aren't too hard to decode for a reader at this level. We remember loving this book as kids, and now we love this book as teachers!  This is an I Can Read It All by Myself beginner book, and we've never met a kid who didn't BEAM with pride after reading it.  We think it's a classroom staple!
And, this book is also a great pick to read aloud at the end of a unit on adjectives. With all the dogs in this book, kids can see that the only thing that sets them apart is the adjectives. :) We have the kids do a thumbs up whenever we say an adjective (to help reinforce the lesson but not detract from the fun of the book....because it really is a fun book!)


Reading Levels
Interest Level:  PreS-Gr. 2             DRA Level: 8                 Lexile Measure: BR
Grade Equivalent: 1.4                   Guided Reading: E

Here are some sample spreads from inside this classic book. As you can see, it's actually a pretty good book to use to teach adjectives and the words are right on for level E / 8 (with plenty of picture support and repetition to help with hard-to-decode words).