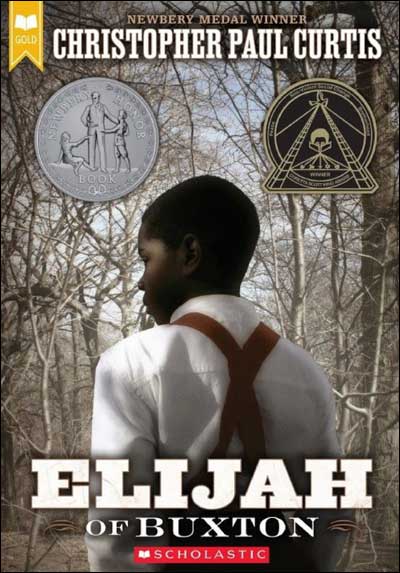 Elijah of Buxton
by Christopher Paul Curtis
Elijah of Buxton is an entertaining and educational mix of history, humor, adventure, and personal growth. It tells the story of Elijah (age 11) and his family, who live in Buxton, Canada, a settlement of runaway slaves. Everyone thinks Elijah is fragile, scared, and talks too much, but when a former slave steals money from Elijah's friend--money needed to buy his family's freedom-- it's Elijah who tracks down the thief. It's a journey that could make him a hero...if he can find his way back home.

Your children / students will laugh out loud at Elijah's antics and the situations he finds himself in, yet they will also find themselves at the edge of their seats, eager to find out if Elijah makes it safely back to Buxton.
Curtis packs in the historical details, including more about the real settlement of Buxton. We agree with Booklist's starred review, which referred to this title as "a fine, original novel from a gifted storyteller." USA Today said, "Here's a pre-Civil War history lesson wrapped in an adventure story." And Kirkus Reviews (in a starred review) said, "This is Curtis's best novel yet, and no doubt many readers, young and old, will finish and say, 'This is one of the best books I have ever read.'"


Elijah of Buxton Reading Levels

Interest Level:  Grade 5-8
DRA Level:  60
Lexile Measure:  1070L
Grade Level Equivalent:  6.0
Guided Reading Level:  W
Read-Aloud vs. Individual Reading:
The intended audience for this book is grades 5-8.  Most children in this range should be able to read this book on their own, with the exception of most fifth graders, who (on average) do not read on this reading level until the end of their fifth grade year.  If you are giving this book to fifth graders to read, plan to provide extra support for individual reading OR read this one as a read-aloud.

Awards Won by Elijah of Buxton

  - Newbery Honor 2008
  - National Council of Social Studies Notable Social Studies Book 2008
  - American Library Association Notable Book
  - American Library Association Coretta Scott King Award 2008
  - Scott O'Dell Award for Historical Fiction 2008
  - School Library Journal Best Book of 2007
  - Horn Book Magazine Fanfare Award  2007
  - Women's International League for Peace and Freedom Honor

Book Covers Available

There are two available book covers for this book. We like them both. Tough call!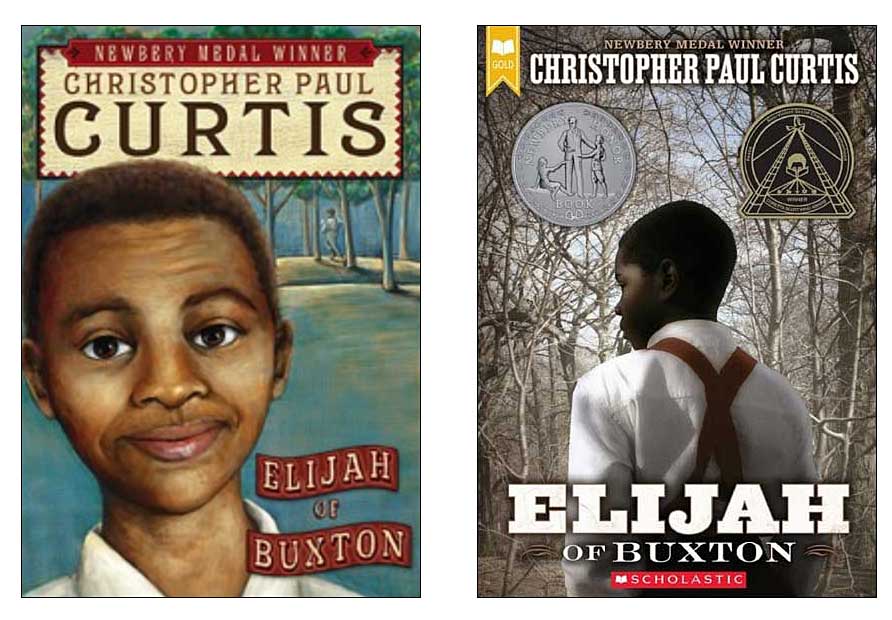 Elijah of Buxton Novel Units
There are quiet a number of novel units (lesson/activity packets) available for Elijah of Buxton on the popular teacher website teacherspayteachers.com.  We haven't personally used them with our classes because we teach the younger grades, but they all seem to have a lot of positive reviews. (If you aren't familiar with this site, it's full of lesson plans, activities, learning games, and other curriculum materials made by teachers. We LOVE the site!!).
To see these Elijah of Buxton novel units, click the link or the pictures below.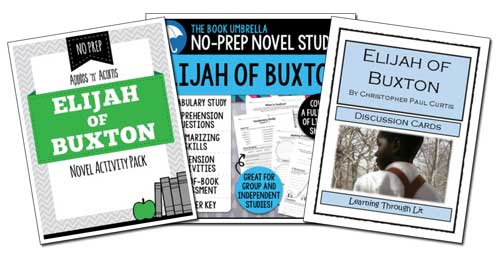 Where to now?
Now that you've seen this great book, what would you like to see now?  Please note that as an Amazon Associate, we earn from qualifying purchases.