Don't Let the Pigeon
Drive the Bus!

by Mo Willems
A brilliantly simple book. A bus driver has to step away from his bus so tells the reader: "Don't let the pigeon drive the bus." This seems like a silly request, but soon a pigeon appears on the scene and starts in with "Hey, can I drive?" 

Being told no, he launches into "ever-escalating, increasingly silly bargaining" that captures "the essence of unreasonableness in the very young." (School Library Jrnl)
We love this book. Willems has a talent for creating deceptively simple stories that really speak to kids. When adults read this book, they inevitably think "Oh, that is so brilliant." And when kids hear it for the first time, they inevitably recognize something familiar in the pigeon's theatrics. The simplicity of the illustrations is truly part of the magic. Mo Willems has such a wonderful talent for imbuing his illustrated characters with an overabundance of personality!
This book won a Caldecott Honor in 2004!


Reading Levels
Interest Level:  Pres-Gr. 2              DRA Level: 16                         
Lexile Measure: 120L                   Guided Reading: I


See inside
Below is a spread from inside Don't Let the Pigeon Drive the Bus. This spread shows the desperate pleading that the pigeon resorts to when his initial requests to drive the bus are denied. Kids will love seeing the pigeon act this way since they will absolutely recognize this behavior!  And for such a simply drawn little bird, this character is bursting with personality and drama, drama, drama.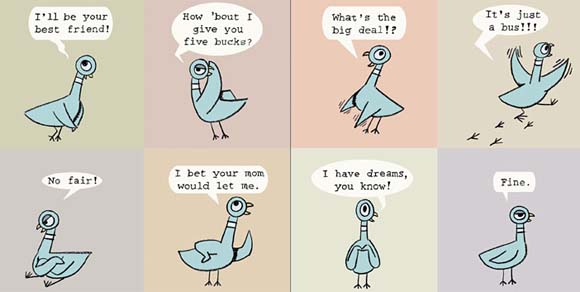 Lesson Ideas: Directed Drawing

Some children don't know where to begin when they want to draw something. They see the whole rather than the parts, and when unable to translate that into a drawing, they decide they 'just aren't good at art.' Now and then it can be helpful to show children--in steps--how to draw something. It builds confidence and teaches students that drawing is a process-- one pencil stroke at a time!
We thought of doing this for the pigeon in the book because the overall shapes and look can easily be replicated. This is a creature that children often feel they have a shot at drawing well. Of course, when Mo Willems draws it, he imbues the bird with tons of character and charm, whereas our step-by-step bird at right is pretty basic. But trust us, your students will be absolutely delighted by the results!
We suggest drawing each step on the board and having students follow along, one step at a time, at their desk. To see a larger version of the step-by-step process, click here.




---

You may also want to check out other books by Mo Willems. To learn more, click on the book covers below or the author's name above.



---