Diary of a Worm, Diary of a Spider,
and Diary of a Fly

Diary of a Worm and the subsequent Diary of a Fly and Diary of a Spider are guaranteed favorites in many elementary classrooms!  Each book presents slice-of-life vignettes about life as a worm, a fly, or a spider--all written in diary format. Kids will love seeing the creatures in familiar settings, like the school room, on the playground, playing games with friends, etc. The humor is so clever, you'll be laughing aloud as well. And Bliss's funny illustrations are a perfect match. This is definitely a series to have!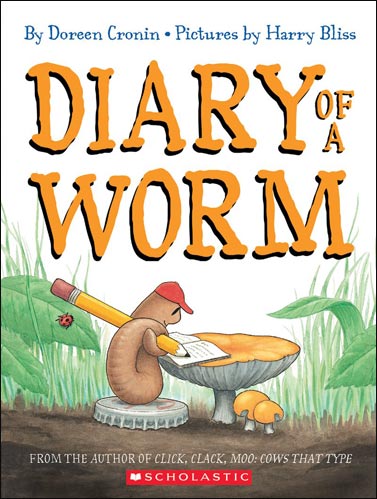 Diary of a Worm
A cute cartoon worm in a baseball cap describes his everyday life in small, hilarious entries that provide a worms-eye view of the world (ie: having no arms, dodging people digging for bait...) Kids will want to hear this one over and over, plus see it up close look at every detail. A School Library Journal Best Book, International Reading Association Children's Choice Book and a Parents' Choice Silver Honor Recipient.

Interest Level:   Preschool - Grade 3
DRA Level: 24  /  Lexile Measure: AD360L

Diary of a Spider
Spider is a friend of worm's and makes appearances in worm's diary, so this book's a natural sequel. This time the reader is treated to diary entries about life as a spider (ie: vacuum drills at school, bringing your molted skin to school for show and tell, etc.) Perfectly paired with more great Harry Bliss illustrations!

Interest Level:   Preschool - Grade 3
DRA Level: 24  /  Lexile Measure: AD510L
Diary of a Fly
Worm has a diary, spider has a diary...now it's time for fly--the last of the three friends--to have a diary as well! As with the others, this book is formatted into hilarious, brief diary entries that speak of the perils and joys of growing up as a fly, each paired with fun cartoon illustrations.
Fans of this series will absolutely want this one too!  We think it's actually our favorite of the three. :)

Interest Level:   Preschool - Grade 3
See Inside Diary of a Worm

Below are the first two spreads from inside Diary of a Worm. So adorable, and hopefully you can read the text to get an idea of the clever and funny storyline and journal format.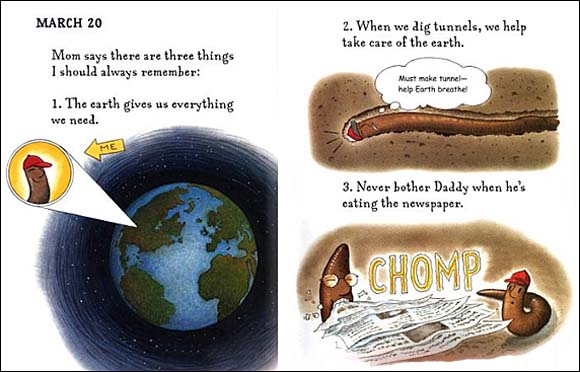 Please note that if you purchase an item from Amazon, they give us a small referral fee.



Related Activities

Harper Collins, the publisher of this book, provides a very detailed teacher's guide for this book--full of activities to extend the fun and learning. To access the PDF, visit this page on the Harper Collins' website and click on Teaching Guide under the Downloads section.
---