Crispin: The Cross of Lead
by Avi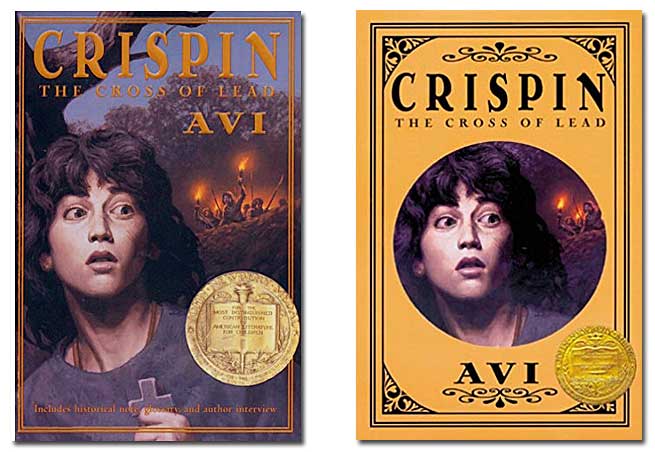 Set in 14th-century England, Crispin: The Cross of Lead is a "rattling fine yarn" (Publisher's Weekly) that tells the story of a young boy who is accused of a murder he didn't commit and forced to flee for his life. Before leaving, he learns his true birth name from a priest, and goes in search of his true identity.
"Avi's plot is engineered for maximum thrills, with twists, turns, and treachery aplenty...A page-turner to delight Avi's fans, it will leave readers hoping for a sequel." (Publ. Weekly)

"A page-turner from beginning to end... a meticulously crafted story, full of adventure, mystery, and action." (School Library Journal)

VOYA called this book "historical fiction at its finest."
There are two cover options for this book. We like both! :)

Crispin: The Cross of Lead Reading Levels

Interest Level:  Grade 4 - 8 
DRA Level:  60
Lexile Measure: 780L
Grade Level Equivalent:  6.1
Guided Reading Level:  W

Read-Aloud vs. Individual Reading:
This book will need to be a read-aloud rather than for individual reading for kids in fourth grade and even many kids in fifth grade, since children generally do not read on the reading level (difficulty level) of this book until the end of fifth grade. The majority of sixth to eighth graders should be able to read this book independently.
Awards Won

by this book


   - Newbery Medal 2003
   - American Library Ass. Notable Children's Book 2003
   - National Council of English Teachers Notable Book 2003
   - National Council for Social Studies Notable Book 2003

Books in the Crispin series
And, there are two sequel books (which trust us...you will be quick to read after you're done with this one!)   Crispin: The Cross of Lead is the first book in the series.  Then there's Crispin at the Edge of the World (book 2) and Crispin: The End of Time (book 3).  The covers are shown below.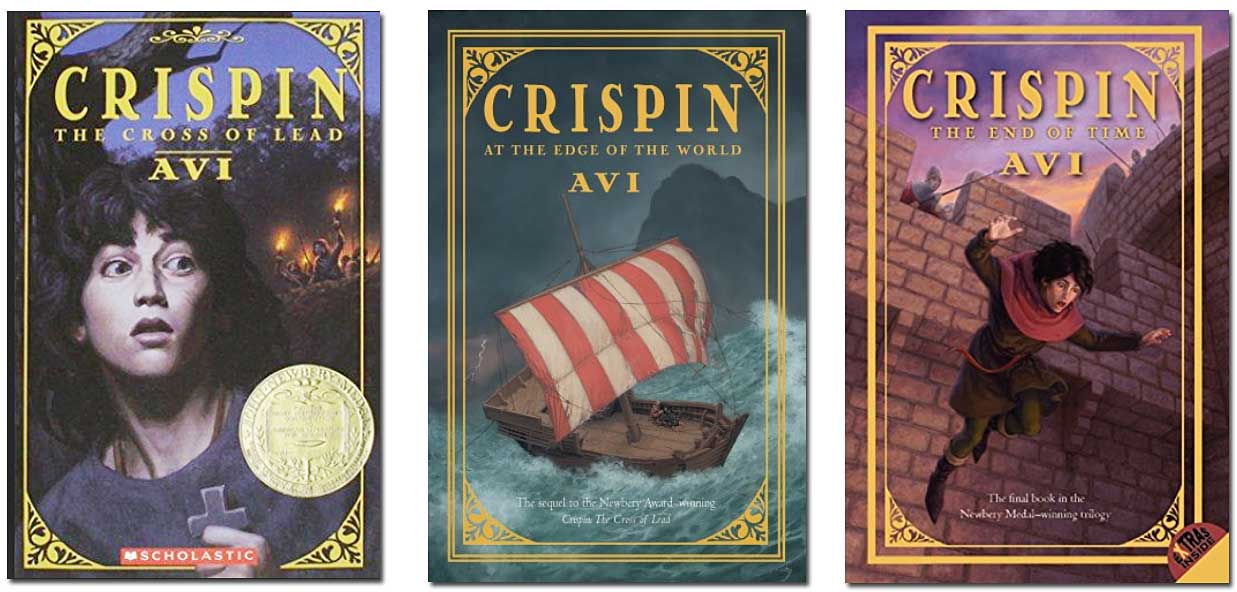 Crispin Novel Studies

Given the huge popularity of this book, there are quiet a number of novel studies available for Crispin: The Cross of Lead on the popular teacher website teacherspayteachers.com.  We haven't personally used them with our classes as we teach the younger grades, but they all seem to have a lot of positive reviews. (If you aren't familiar with this site, it's full of lesson plans, activities, learning games, and other curriculum materials made by teachers. We LOVE the site!!).  At right is a screenshot of all the related worksheets in just one packet!!!
To see these Crispin: The Cross of Lead lesson / activity ideas, click the link or the pictures below.