Claudette Colvin: Twice Toward Justice
by Phillip Hoose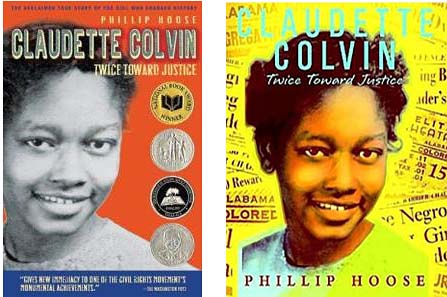 Most Americans think Rosa Parks was the first African- American to refuse to relinquish a seat to a white person, but several months before Rosa's courageous act, 15-year-old Claudette did the same. She was arrested, but did not become the face of the movement. That was Rosa. Claudette was left with a police record and a host of other problems, but despite it all, she testifed in the case that eventually led to an integrated bus system.
In a starred review, School Library Journal said that this book is an "outstanding choice" that will "give [students] new perspective on the era."
There are two different covers available for this book.  We like the yellow one marginally better, but both make you want to pick up the book and read!
Claudette Colvin Reading Levels:

Interest Level:  Grade 6-12
DRA Level:   70
Lexile Measure:  1000L
Grade Level Equivalent:  8.5
Guided Reading Level:  Z

Read-Aloud vs. Individual Reading:
Many sixth graders will struggle a bit if reading this book independently, as the reading level of this book is where most sixth graders END the school year. They will need extra support. Older children should be able to read this book independently.

Awards Won by this book

 * Newbery Honor Book 2010
 * School Library Journal Best Books 2009
 * Jane Addams Honor Book
 * American Library Association Sibert Informational Book Award 2010

Claudette Colvin Lesson / Activity Ideas

Related YouTube Videos
One interesting way to reinforce what students have learned through this excellent book would be to show them one of the following related videos from YouTube:

-An interview with Hoose and Colvin at the 2010 National Book Festival: here
-A shorter interview with Hoose and Colvin, produced by Curious City Books: here
-A short (1:25) video of Claudette's story, with pictures set to music: here

Where to now?
Now that you've seen this great book, what would you like to see now?  Please note that as an Amazon Associate, we earn from qualifying purchases.



This book was an honoree for the prestigious Newbery Award for best children's literature. We have a list of all of the Newbery Award books.