Clara Caterpillar

by Pamela Edwards
illustrated by Henry Cole
Clara Caterpillar is a cute story about being proud of what makes you uniquely you!  And, it is a good book to use if you are teaching the letter 'c', as there are lots of words starting with the letter 'c'.

In the story, a little caterpillar named Clara is perfectly content with her creme coloration, but Catisha--a crimson caterpillar--thinks Clara is too plain. Whenever Catisha makes fun of Clara's plain colors, Clara's buddy Cornelius sticks up for her. And Clara doesn't let all the teasing get her down. She's a caterpillar with spunk!  Before long, the caterpillars undergo a great change, and emerge as butterflies. Just as Catisha is about to make fun of Clara again, a crow comes looking for lunch, and Clara's "plain" colors allow her to camouflage, trick the crow, thus saving Catisha and showing that everyone is special and important, regardless of what they look like!

Accompanying illustrations are cute, very kid-friendly, almost Disney-ish.  The alliterative text is full of the letter C, making it a great book to use when teaching that letter. There are a few obscure 'c' words (like catty and crestfallen), but it's not too much. There is one very funny page about the cranky caterpillars feeling squished inside their chrysalises....good stuff! :)

Reading Levels
Interest Level:  K - Gr. 2               DRA Level: 24                   Lexile: AD660L
Grade Level Equiv:  2.4              Guided Reading: M


See Inside
Here's a page from inside this book to give you an idea of the illustration style and the amount of text. In keeping with the storyline, the initial spreads are very green and not terribly colorful. However, as the caterpillars go through metamorphosis, the pages burst with colors.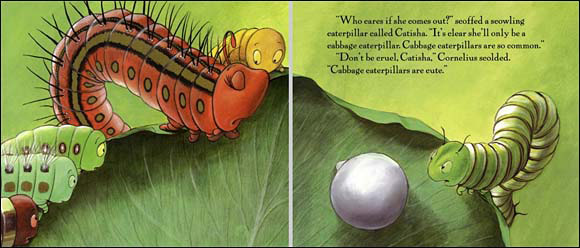 Lesson Idea
As a cute extension activity to go with this book, make colorful coffee filter butterflies that reinforce the message that differences are what make us special. This is a great cross curricular activity, including art, science (butterflies), and character education (diversity).
I could explain the process for making these cute little butterflies, but this instructional video (by childcareland)  does a great job!
Once done, it looks great when butterflies are glued to a bright blue piece of construction paper.
Where to now?
Now that you've seen this great book, what would you like to see now?  Please note that as an Amazon Associate, we earn from qualifying purchases.