After Tupac and D Foster

by Jacqueline Woodson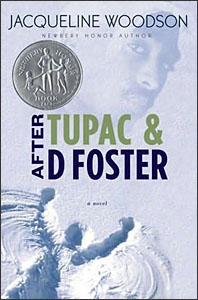 After Tupac and D Foster: Life for Neeka and her best friend was uneventful until D Foster moved into their Queens neighborhood. Soon they were fast friends and a new world of ideas, music, and purpose opens up to them. Captures the girls' passage from childhood to adolescence and shows the power of friendship and searching for your own 'big purpose' in life.
Narrated by one of the friends (who remains unnamed throughout the book), this title 'rings true' to the experiences and emotions of the pre-teen and early teenage years. Jacqueline Woodson has captured the girls' passage from childhood to adolescence in language and experiences that your students or child will certainly relate to.
At heart, this title is about the power and impact of friendships on shaping your world view and finding your own 'big purpose' in life. D Foster is only in the girls' lives for a short time, but her is significant and meaningful for the two friends.


Interest Level: Gr. 6-9             Grade Equivalent:  4.6       Lexile Measure:  750L

This book won a number of children's literature awards, including the 2009 Newbery Medal, the Josette Frank Award, and the American Library Association Award.

There are two covers available for After Tupac and D Foster--basically just slight variations of the same look: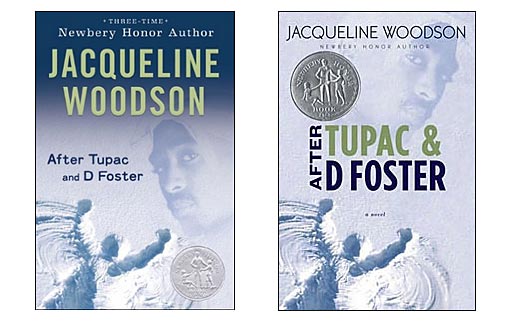 After Tupac and D Foster Lesson / Activity Ideas

What Is Your Big Purpose?
This book surely gets kids thinking about their own 'Big Purpose'. I think a good reflection activity to have students do after reading this book is to have them write about their own Big Purpose. It's a very tough concept, one that most adults still struggle with, so this is likely not an appropriate assignment for all students. But for students who are ready for it, it can be a powerful way to deepen the experience of reading this book.

Analysis of a Tupac Song
If you have students who are interested in rap, you could have them copy down and then analyze and reflect on the lyrics to one of Tupac's songs. This website provides lyrics to a number of his songs. You may want to read them over first and select four or five songs for your students to choose from. Students should do more than just summarize the song. Instead, they should:     

analyze the word choice, figurative language, rhyme scheme, etc...

reflect on the meaning of the lyrics and whether they have had similar emotions or experiences


draw connections to other works of fiction, movies, poetry, lyrics, etc
As rap music can be controversial---with many songs being highly inappropriate for the classroom--- you may want to consider whether this assignment will cause concern for some parents. Regardless of the lyrics of the particular song you have selected for the students, some parents may not feel that analyzing a rap song is an appropriate educational activity. Every community is different, so we encourage you to consider this before assigning this activity to your students. We don't want our suggestion to get you into trouble!
Where to now?
Now that you've seen this great book, what would you like to see now?  Please note that as an Amazon Associate, we earn from qualifying purchases.

---

This is a great book, but if it's not exactly the book you are looking for, you can see:
more books by author Jacqueline Woodson