A Year Down Yonder
by Richard Peck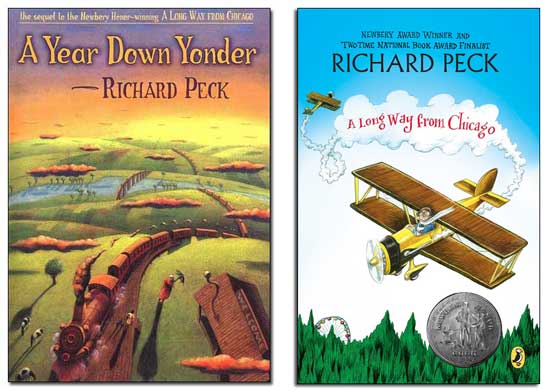 A Year Down Yonder is the much awaited and much loved first book in the Grandma Dowdell series.  This book tells the story of Mary Alice, age 15, who is not excited about spending a whole year living at her Grandma Dowdel's house, but before long she becomes a willing accomplice in her outrageous grandma's schemes to run the town her own way, do good anonymously, help friends, and avenge enemies.
This book won A LOT of awards, including the BIG one for children's literature: the Newbery Medal (2001).  It was also named as an American Library Association Notable Children's Book and an American Library Association Best Book for Young Adults List 2001.
There are two different book covers available for this book (both shown at right).  We think they are both adorable!

Publishers Weekly called this sequel to Peck's Newbery Award winning novel A Long Way from Chicago "hilarious and poignant."   And School Library Journal (in a starred review) said, "Peck charms readers once again with this entertaining sequel to A Long Way from Chicago". Agree!


A Year Down Yonder Reading Level

Interest Level:  Grade 5 - 8
DRA Level:  50
Lexile Measure:  610L
Grade Level Equivalent:  4.9
Guided Reading Level:   V
Read-Aloud vs. Individual Reading
The intended audience for this book is grades 5-8.  Most children in this range should be able to read this book on their own, with the exception of most fifth graders, who (on average) do not read on this reading level until the end of fifth grade.  If you are giving this book to fifth graders to read, plan to provide extra support for individual reading OR read this one as a read-aloud.

Books In This Series

There are three books in this series (sometimes referred to as the "Grandma Dowdell series) -- A Long Way from Chicago, A Year Down Yonder and A Season of Gifts. Below are their book covers:


A Year Down Yonder Novel Studies / Activity Ideas

There are a lot of novel study packs available on Teachers Pay Teachers for A Year Down Yonder. We haven't personally used them with our classes since we teach the younger grades, but they all seem to have a lot of positive reviews. To see these A Year Down Yonder novel studies / activity ideas, click the link or the pictures below.