A Girl Named Disaster
by Nancy Farmer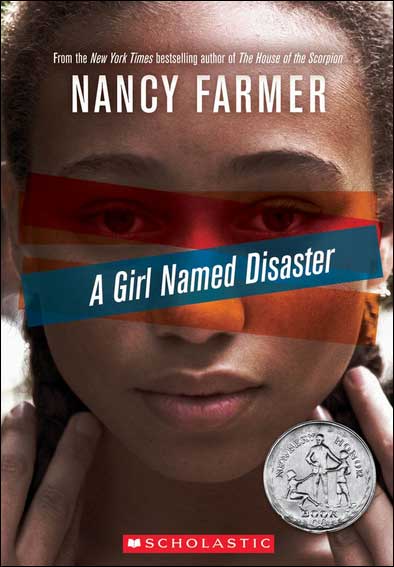 Set in Africa, A Girl Named Disaster tells the story of eleven year old Nhamo, who is faced with a problem!  Her mother is dead, her father is gone, and the village witchfinder says she must marry a cruel man. With no choice left, she decides her only option is to escape the village and embark on a long and dangerous journey to reach Zimbabwe, where her father lives. En route on her solo journey, she faces dangerous animals, near starvation, getting lost...and begins to communicate with African spirits for help. She's even accepted by a baboon family for a while.
School Library Journal said this story "is humorous and heartwrenching, complex and multilayered, and the fortunate child who reads it will place Nhamo alongside Zia (Island of the Dolphins) and Julie (Julie of the Wolves). An engrossing and memorable saga. We agree... couldn't put it down! " And Publisher's Weekly ended their review by saying "Nhamo herself is a stunning creation-while she serves as a fictional ambassador from a foreign culture, she is supremely human. An unforgettable work."
There is so much to love about this book, but as geography buffs, one of our favorite reasons is how the continent of Africa is brought to life in this book. Children can have a hard time comprehending life in far-off lands, but this book helps bridge that gap.

Awards and Honors for A Girl Named Disaster:

 * National Book Award Honor 1996
 * Newbery Honor 1997
 * American Library Association Notable Children's Book
 * American Library Association Best Books for Young Adults 1997
 * Horn Book Magazine Fanfare Award 1997
Reading Levels for A Girl Named Disaster:

Interest Level:   Grade 6 - 9
DRA Level:  60
Lexile Measure:   730L
Grade Level Equivalent:   5.9
Guided Reading Level:   X


There are a lot of different book covers for this title (although some are admittedly not widely available!)  The most common is the second and fourth.




Lesson Ideas/Activities for A Girl Named Disaster:

The website Read Write Think has some lesson plan / activity ideas on how to use A Girl Named Disaster for making personal and cultural connections.  There are downloadable resources and activities for individuals, small groups, and whole class. To access this resource, click  A Girl Named Disaster lesson / activity ideas.

Where to now?
Now that you've seen this great book, what would you like to see now?  Please note that as an Amazon Associate, we earn from qualifying purchases.


Or check out other Nancy Farmer books