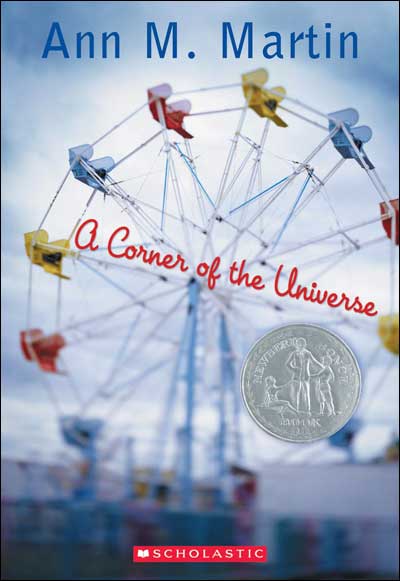 A Corner of the Universe

by Ann Martin
A Corner of the Universe summary:
Quiet, shy Hattie had never met her uncle Adam, who came home after 10 years of being put away for schizophrenia and autism, but she immediately likes him and his excitable ways. Her parents and grandparents have a hard time with his intense way of seeing the world, but Hattie finds she likes spending time with him. He is happy (most of the time) and she comes to see the world differently since spending time with him. And Uncle Adam likes Hattie too. He can see that Hattie is special to in her own, unique way.
Note: Before having your own child or your students read A Corner of the Universe, you will need to pre-read it.  There are some parts that you may not find to be appropriate for your child or students (mainly (1) the book deals with a suicide, and one character calls that choice "brave" at the man's funeral, and (2) there is a scene where a main character is sexually attracted to a girl's chest.)  We are not trying to dissuade you from this book, but we think it's important to pre-read it and decide ahead of time if it's appropriate for your audience. 
A Corner of the Universe Reading Level

Interest Level:  Grade 5-8
DRA Level:   60
Lexile Measure:  750L
Grade Level Equivalent:  6.1
Guided Reading Level:  Y
Awards won by this book
 * Newbery Honor 2003
 * American Library Association Notable Children's Book 2003
 * Horn Book Magazine Fanfare Award  2002
 * National Council for Social Studies Notable Book  2003
Readers will relate to Hattie's desire to be normal, and "will admire her willingness to befriend an outcast." (Publisher's Weekly) 
"This is a fully realized roller coaster of emotions, and readers take the ride right along with Hattie."(Booklist)
"Martin delivers wonderfully real characters and an engrossing plot through the viewpoint of a girl who tries so earnestly to connect with those around her. This is an important story...evocative on the subject of mental illness." (School Library Journal, starred review)
Teachers:  There is no shortage of curriculum materials to go with this fantastic book, from discussion questions to online book quizzes to full literature units.


This book was an honoree for the prestigious Newbery Award for best children's literature. Click to see the full list of Newbery Award Winners.