A Couple of Boys Have
the Best Week Ever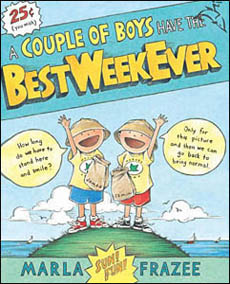 by Marla Frazee
In A Couple of Boys Have the Best Week Ever, best friends Eamon and James have a blast while staying at Eamon's grandparents, although it's not because of the Nature Camp they're attending or all the activities that Eamon's grandpa has planned. It's their sheer joy of being together.
But don't worry about poor Grandpa. In the end, it's clear that sometimes things work out best when they don't go exactly as planned.

Frazee has captured the essence of summer, what it means to be a kid, and how even the best intentions by adults can't sway kids from being kids. Reading this book make me wish I was a kid again! And Marla Frazee's illustrations are truly adorable! She's quickly becoming a favorite. To date, she has two Caldecott Award winners, but we're sure there will be more to come!
And tip for parents: Get a copy for grandma or grandpa to read aloud next time they visit. They'll certainly relate to having their plans thwarted by little kid ambitions but caring most of all about just being together!


This book is a Caldecott Honor Book for 2009!


Reading Levels
Interest Level: K - Gr. 2          DRA Level:  24                 Lexile Measure:  680L
Grade Level Equiv: 3            Guided Reading: M 


See Inside
Below are two sample spreads from inside A Couple of Boys Have the Best Week Ever. In the top spread, Eamon and his grandparents were awaiting the arrival of James, Eamon's best friend. In the second spread, Grandpa is driving the boys to their day camp and then picking them up at the end of the day. The hand-lettered text is a bit hard to read in this small version, but these sample  spreads should give you an idea of Frazee's charming illustration style. Love it!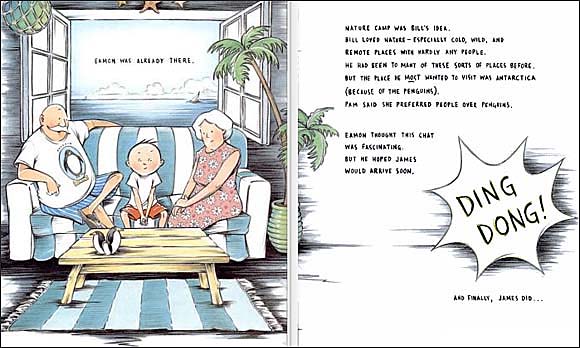 Related Activity
This book is ideal for getting kids excited to write about their best friends and what they like to do together. Or, you could have kids write about what they like to do during summer break. Kids will have their creative juices flowing and be ready to write. In fact, we are going to make some downloadable prompt worksheets for this, so if that interests you, check back in the next few weeks. :)

To learn more about this book, click the link below.  Please note that if you purchase an item from Amazon, they give us a small referral fee. (This helps pay for site hosting costs, thus allowing us to keep everything free for site visitors!)

---

Marla Frazee's books are full of delightful illustrations. Check them out!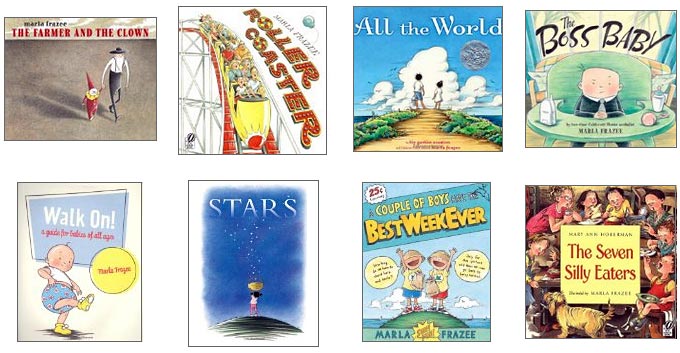 This book won the prestigious Caldecott Medal for best children's books. Check out our list of all the books that have won the Caldecott Award.