Zoo in the Sky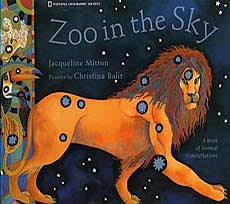 A Book of Animal Constellations
by Jacqueline Mitton & Christina Balit

In this "visually stunning" book, shiny metallic stars in the formation of a particular constellation are superimposed onto gorgeous illustrations of the animal or creature it is named after. "Simple, poetic descriptions" also accompany the featured constellation. (School Library Journal)
This is truly a unique and captivating book for introducing constellation to kids.  And, if you like this book, be sure to check out Once Upon a Starry Night -- also about stars and by this same author / illustrator team.
Reading Levels

Interest Level:  K-Gr. 3                DRA Level:  20                    Lexile Measure: 750L
Grade Level Equiv: 3.3               Guided Reading:  L



See Inside This Book

Below is a sample spread from inside this book.  Sorry it's so small.  We'll work on getting several larger sample spreads posted soon.  In the meantime, hopefully this will give you an idea of whether this is the book you are looking for:



Where to now?
Now that you've seen this great book, what would you like to see now?  Please note that as an Amazon Associate, we earn from qualifying purchases.