Words are Categorical
Books with Synonyms


written by Brian Cleary and illustrated by Brian Gable

Two more fun Words are Categorical titles, this time focusing on teaching synonyms. Readers learn that synonyms "help us be less repetitious","give us more options and make things precise." In both books, the pages are full of illustrated examples and Clearly was careful to avoid repetition between the books, so teachers who found the first title to be helpful should have no qualms about purchasing the second title if they feel their class needs a bit more help in this area.
(Note: There's also a title for antonyms. Click your browser back button, then scroll to the bottom of the page.)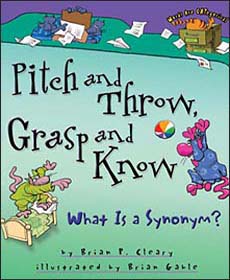 Pitch and Throw, Grasp and Know
What Is a Synonym?

This title provides the series' usual abundance of examples, plus moves beyond definitions and examples to demonstrate how valuable synonyms are to good writing. In their review of this title,Booklist rightly said "this will be a fun read-aloud, and kids will certainly get the message that words are not boring."


Stroll and Walk, Babble and Talk
More About Synonyms

This companion to Pitch and Throw, Grasp and Know provides even more examples of synonyms. Building on its predecessor, this volume covers the shades of meaning that can exist among synonyms, and the importance of choosing just the right word to create precise and interesting writing. This book is perfect for teaching the power of picking just the right word.


See inside
Below are sample spreads. Click images to see larger versions.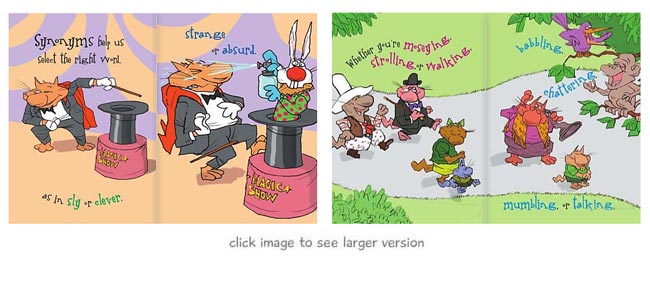 Please note that if you purchase an item from Amazon, they give us a small referral fee. And that helps us cover the costs of this website.


You may also want to check out other Words are Categorical series books. To learn more about this great series, click on the book covers below or link above.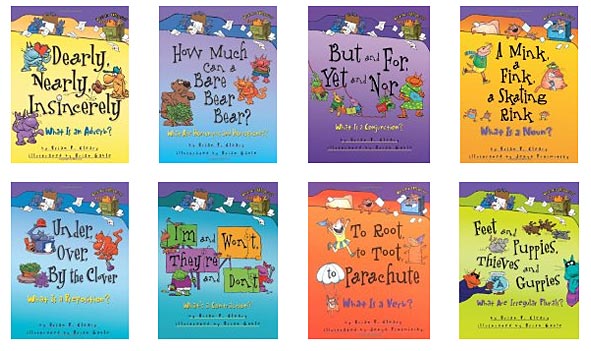 ---