Teaching Verbs
with children's books

We like teaching verbs! They are pretty straightforward, and there are so many fun, active activities to drive home what verbs are. Fun stuff!  Below is a list of fun children's picture books that are great for helping kids understand what verbs are.
Of course all books have verbs in them (at least those with words), but these books have kid-friendly definitions and give lots of fun examples. We hope to enlarge upon this list, but for now we have a few books to help teach this part of speech. If you know any books we should add to this list, please let us know. We need your help!
Note: We also have booklists on other parts of speech.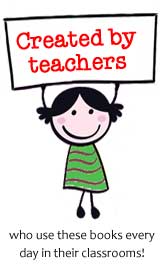 Great Books for Teaching Verbs

Nouns and Verbs
Have a Field Day
(an adorable little story that
uses humor to teach why
sentences need both nouns
and verbs. We like this book!)
by Robin Pulver
1st grade - 4th grade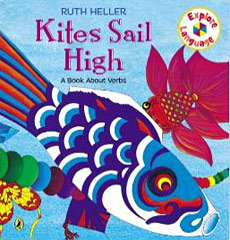 Kites Sail High: A
Book About Verbs
(part of the World of
Language series. The elaborate
illustrations are quite striking,
but the book does cover A LOT
of ground (too much?)
by Ruth Heller
1st grade - 6th grade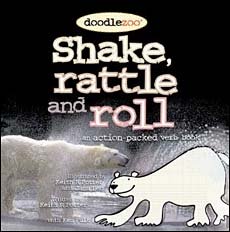 Shake, Rattle, and Roll
An Action Packed Verb Book
(part of the Doodlezoo series--
combines computer illustrations
and nature photography)
by Keith Potter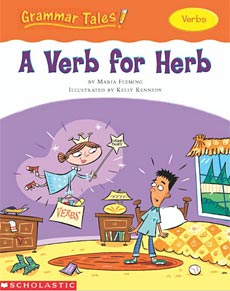 A Verb for Herb
(a fairy shows a bored little
boy all the fun, active things
he can do, like dance,
hop, cook, invent...)
by Maria Fleming
1st grade - 4th grade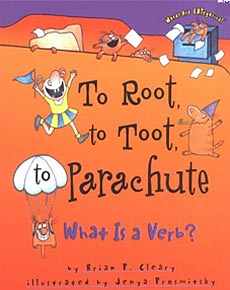 To Root, to Toot, to
Parachute: What is a Verb?
(zany, funny, full of examples--
this book is part of the Words
are Categorical series, which
is very popular with kids)
by Brian Cleary
2nd grade - 4th grade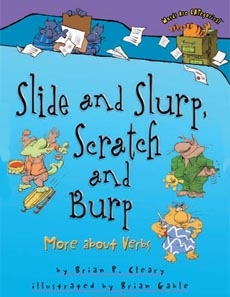 Slide & Slurp, Scratch and
Burp: More About Verbs
(a follow up book on verbs--
this book does not repeat
material in the first,so it's
great to have both!)
by Brian Cleary
2nd grade - 4th grade

If You Were a Verb
(whimsical illustrations, defines verbs and gives examples. Part of the
well done "Word Fun" series)
by Michael Dahl
1st grade - 3rd grade


We definitely need to grow this list with more great children's books for teaching verbs. If you happen to know any children's books that are great to use when teaching verbs, let us know!  If you haven't found the right book for you on this list, you may want to check out: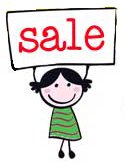 Don't forget to check out our....
sale language arts books: just $2.75 each

These books are used but in great shape!  Kids are hard on books. Don't waste your money on new, pristine books that will stay pristine for 5 minutes. Our used [but still very good] book sets are a perfect middle ground.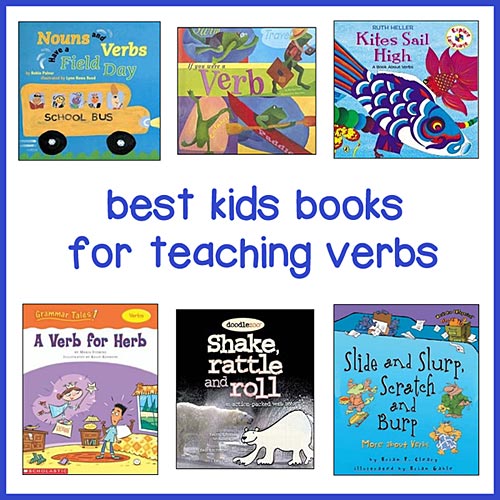 ---