Books with Similes
great books for teaching similes

Below are great kids books to use when teaching similes and metaphors to kids of all ages. Children's book authors are well known for peppering their books with similes and metaphors. 
This is page two of our list. Page one has our favorite similes and metaphors books.  If you haven't seen that list yet, check there first in order to see the best books for teaching similes. We'd love to grow this list!  We know there are many more great kids books out there that are chockablock with similes and metaphors. Can you help us grow this list?

Remember, these are 'regular' children's books that contain many simile examples:



---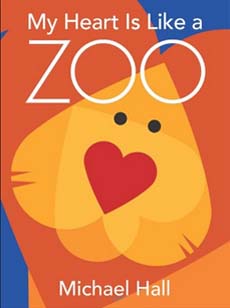 My Heart Is Like a Zoo
by Michael Hall
This adorably illustrated book is FULL of similes, like: snappy as a crab, angry as a bear, bothered as a bull, brave as a lion, thoughtful as an owl, peaceful as a portly walrus... This book was written for very young children, but it can also be used as a mentor text for using similes to enhance writing.

See inside or buy from Amazon

---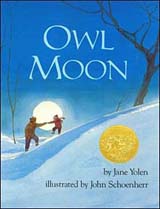 Owl Moon
by Jane Yolen; illustrated by John Schoenherr
A visitor to this website wrote in to say Owl Moon is a great book to use when teaching similes, plus we found a lesson plan online using this title to teach similes and metaphors here. We have not yet used this in the classroom, but it looks promising.

See inside or buy from Amazon

---
Amber on the Mountain 
by Tony Johnston; illustrated by Robert Duncan
When an illiterate child name Amber learns to read with the help of her new friend Anna, a whole new world opens up to her. This isn't our favorite book in this category but does have similes in it.


---
Wilfrid Gordon McDonald Partridge  
by Mem Fox; illustrated by Julie Vivas
This adorable book has such a sweet message! It tells of a little boy who befriends the residents at the retirement home next door, but develops a special friendship with one resident, Miss Nancy.

See inside or buy from Amazon

Additional books have been recommended by users of this site as having many simile examples. We've read most of them but haven't had a chance to consider how they would work for teaching similes.  If you are looking for other possible titles, you might want to check out these books as well.  And we'll work on getting reviews written for them as well.


We will review these books soon and make sure they truly are full of great similes and metaphors. :) In the meantime, you can learn more about them by clicking the link below.