Teaching Pronouns with
Children's Books
Below are a few children's books for teaching pronouns. We'd like to add more to this list, but perhaps they don't exist? If you know of more books for this category, please let us know!


The Planet Without Pronouns
Scholastic Grammar Tales Book #5  by Justin Martin and Jared Lee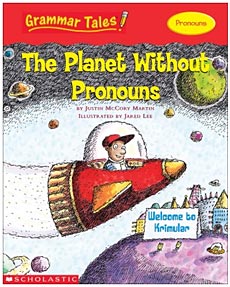 As this book proves, one of the most effective ways to teach what pronouns are is to NOT include them in sentences!  Students will pick up on something sounding 'odd' and this will help them understand the need and place for pronouns.
In the story, a young boy has just flown his spaceship to the distant planet Krimular, excitedly lands, and starts exploring. Before long, he realizes that no one on the planet uses pronouns so he decides to teach them all about when and where to use pronouns.

click here to see inside this book
This fun, kid-friendly premise turns this book into a great tool for teaching pronouns in the classroom!  And, if you like this book, be sure to check out other books in the Scholastic Grammar Tales series.

Interest Level:  Gr. 1-4         Grade Equivalent: 2.7          Lexile Measure: 590L
---
If You Were a Pronoun
Word Fun series, by Nancy Loewen & Sarah Gray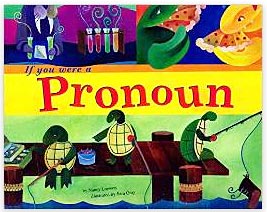 This book in the Word Fun series provides creative and visually engaging tool for teaching pronouns. The straightforward text defines pronouns, then uses repetition in examples to teach the concept. For example: "Frank and Dylan each ate three slices of pizza. THEY each ate three slices of pizza."

Whimsical, brightly colored illustrations help students visualize the concepts. Includes an activity at the end. This is a great choice if you're teaching pronouns!
Interest Level:  Gr. 1-3               DRA Level: (not available)
Reading Level:  age 4-8           Lexile Measure: 440L
---
I and You, and Don't Forget Who: What Is a Pronoun?  
by Brian Cleary and Brian Gable
This book first teaches what pronouns are (ie: "Just like a substitute teaches your class, when she's asked to fill in for your teacher / a pronoun steps in as a sub for a noun, becoming the star of the feature.")
Then, it moves on to cover the types of pronouns (personal, possessive, demonstrative). In all, this is a fun choice for teaching pronouns.
Cleary's rhythmic, rhyming verse and Gables's energetic, cartoon illustrations work well together.
click here to see inside this book
This book is part of the Words are Categorical series. We really like these books. And so do the reviewers!  In their review, Booklist said the book "presents the major uses of pronouns with precision, brevity, and wit."

Interest Level:  Gr. 1-3            DRA Level: 34              Guided Reading Level: O
---
Mine, All Mine: A Book About Pronouns
by Ruth Heller  (World of Language series)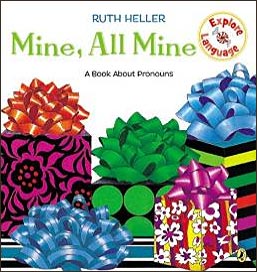 This title explores the different types of pronouns (personal, possessive, indefinite, demonstrative, reflexive...) through rhythmic text and spreads full of vibrant, detailed illustrations.
In their review, School Library Journal said "Once again, Heller has taken a part of speech and made its function perfectly and entertainingly clear... " 

  click here to see inside this book
This may be a picture book, but the content is definitely upper elementary or middle school (or even a great review for high school too!) The publisher has it listed for littler kids, but we've bumped the interest level up due to the more challenging grammar material being covered.

Interest Level:  Gr. 3-8       Grade Equivalent: 1.7          Lexile Measure: 480L
---


That's it for our list of books for teaching pronouns. It's not very many books, we know. We will keep combing the shelves looking for more books to help parents and teachers teach pronouns, but in the meantime, if you know of a great title we have missed, please suggest books for teaching pronouns