Teaching Multiplication
with Children's Books

Not long ago, teaching multiplication largely meant helping children learn their times tables. That was certainly true when we were children in elementary school. Until recently, learning multiplication was ALL about memorization.

Now, the focus is on helping kids visualize the numbers involved and see the bigger picture of multiplication--like understanding why it's more useful than counting, what the different real world applications are, etc.  That's generally the more difficult aspect of teaching multiplication. Luckily that's where fun and clever children's books excel!
These books will add a blast of fun to your lessons, or if you are a parent, these books can help supplement the math that your child is learning in school. Multiplication has never been so fun! The list below of math books for kids includes links to buy the books on Amazon. Or, to save 50% or more with our math SALE books.


Best Books for Teaching Multiplication

with links to buy on Amazon
Amanda Bean's Amazing Dream 
A Mathematical Story by Cindy Neuschwander, illustrated by Liza Woodruff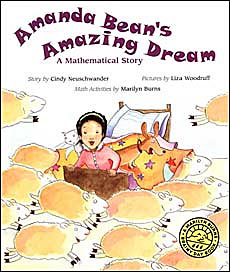 (2nd grade - 4th grade) Amanda Bean loves to count but isn't sure about why she needs to learn multiplication. That is, until she has a crazy dream full of sheep on bicycles, knitting grannies, and more. In the dream, she tries to count the sheep, balls of yarn, and sweater sleeves, but she can't count it fast enough. She then heeds the advice of the talking sheep and uses multiplication. When she wakes from her dream the next morning, she's excited to go to school... and she's ready to finally learn multiplication.  (more)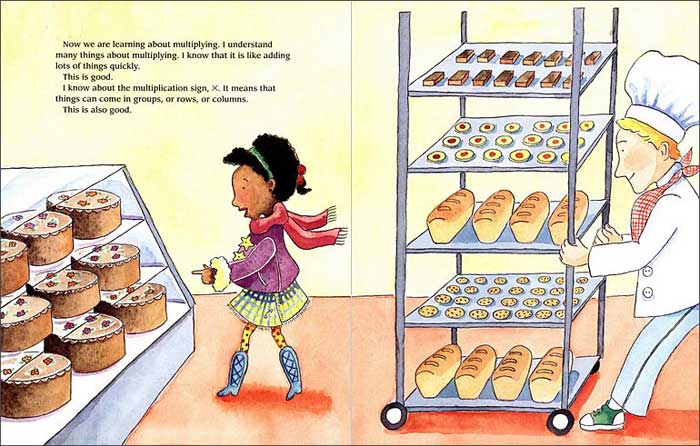 click here to see more pages or buy this book

---
The Best of Times 
Math Strategies That Multiply by Greg Tang; illustrated by Harry Briggs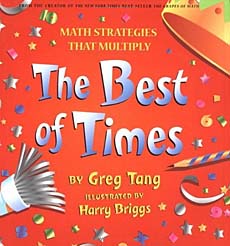 (3rd grade - 6th grade) Once again, Tang has created a book that shows the benefits of setting aside memorization and rules when teaching multiplication, favoring logical and creative thinking instead. Through Tang's bouncy rhymes and Brigg's engaging digital artwork, this book demonstrates the relationships between numbers and how that relationship can help with learning and performing multiplication. "A multiplication book that really adds up"  (School Library Journal)  (more)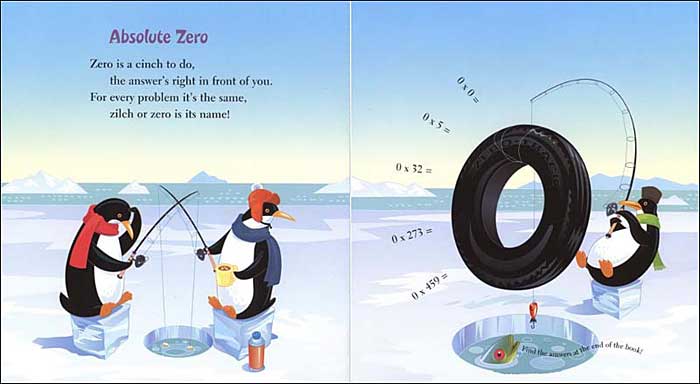 click here to see more pages or buy this book
---
The Lion's Share 
A Tale of Halving Cake and Eating It, Too by Matthew McElligott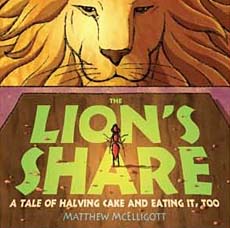 (1st grade - 3rd grade) In this beautifully illustrated book, lion bakes a cake, but each of his greedy friends takes half the cake when it's passed to them, leaving Lion with only a crumb. Ant feels bad and offers to bake another cake. The others hear, and not wanting to look bad, likewise offer to bake cakes for the lion. They each try to outdo each other, promising twice the cakes promised by the previous guest! Great for teaching multiplication, division, fractions, and even generosity. (more)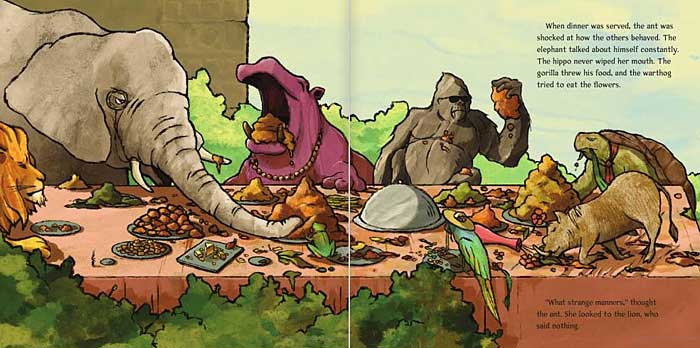 click here to see more pages or buy this book
---
2 X 2 = Boo! 
A Set of Spooky Multiplication Stories by Loreen Leedy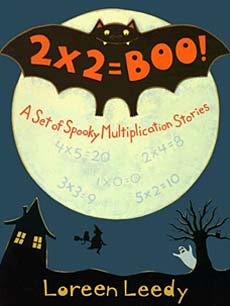 (2nd grade - 4th grade) 2 x 2 = Boo is a cute Halloween-themed multiplication concept book that works any time of the year. In short chapters that each focuses on one number (from 0-5), vampires, witches, skeletons and other creepy crawlies pose and answer ghoulish questions that not only teach multiplication facts but also visually illustrate the equation being covered. School Library Journal said, as far as teaching multiplication, it's "an entertaining alternative to rote memorization; it's a little silly, but it works."   (more)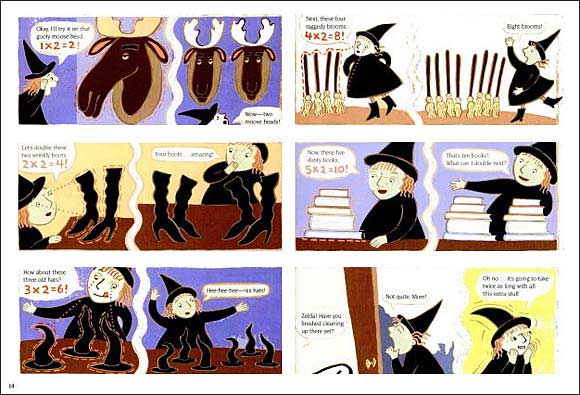 click here to see more pages or buy this book
---
Multiplying Menace 
The Revenge of Rumpelstiltkskin by Pam Calvert; illustrated by Wayne Geehan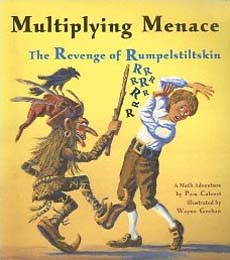 (3rd grade - 6th grade) Rumpelstiltskin has returned and is threatening to harm the kingdom if he is not repayed for the gold he spun 10 years ago. The baby that was promised to him in the fairy tale is now a ten year old boy named Peter and he is the only one who can get hold of Rumplestiltskin's secret multiplying wand and save the kingdom.  In the process, the reader learns about multiplying with whole numbers and fractions. This is a fun book to read aloud when teaching multiplication but not as an introduction. (more)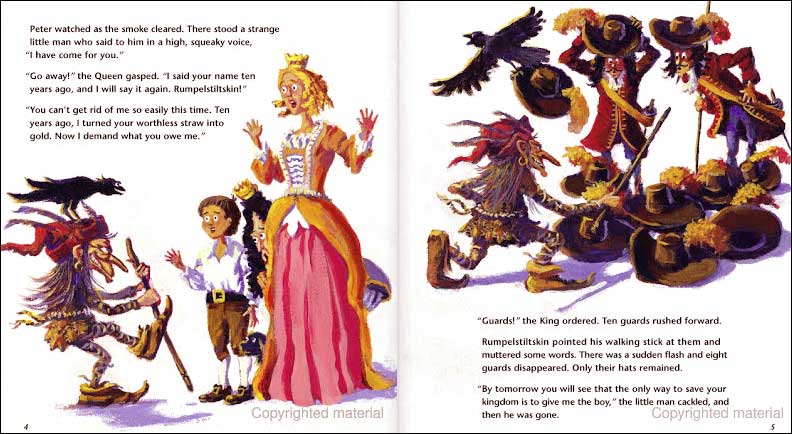 click here to see more pages or buy this book
---
365 Penguins 
by Jean-Luc Fromental; illustrated by Joëlle Jolivet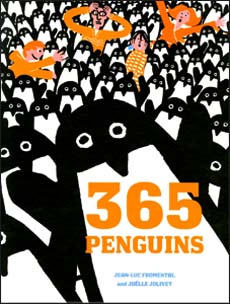 (1st grade - 4th grade)  A family is baffled when their uncle, an ecologist, keeps sending them a penguin a day. They quickly become overwhelmed trying to care for the increasing penguins and finally use multiplication to organize, feed and care for them.
It's a silly storyline, but the math lesson is a lot of fun and the retro-style illustrations are really unique!  SLJ points out that "the text provides endless opportunities for word problems" and Booklist says "this is a lively romp from the beginning to the end."  If you are teaching multiplication, check this one out. :)  (more)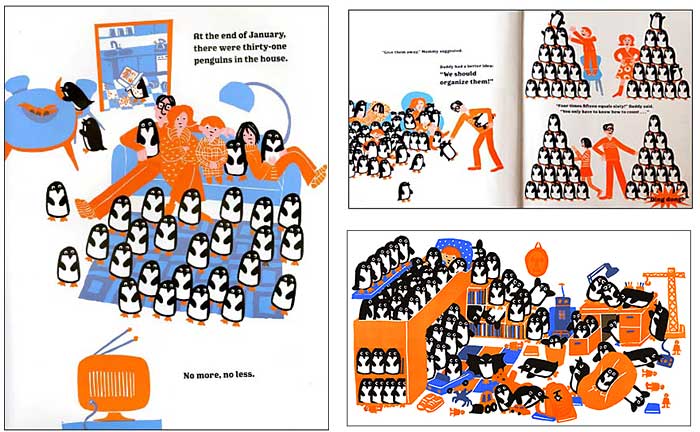 click here to see more pages or buy this book
---
One Grain of Rice   A Mathematical Folktale by Demi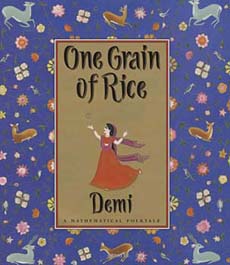 (1st grade - 8th grade) An Indian folktale about clever young girl who out- smarts the greedy king through her knowledge of the power of doubling. When Rani does a good deed, the raja offers to reward her, but all she asks for is one grain of rice, doubled each day for 30 days. The raja is happy to comply, not realizing it will amount to enough rice to feed her entire village! Younger children will appreciate the overall story line, while teachers of older children can use this in math lessons with kids learning multiplication, especially exponents. (more)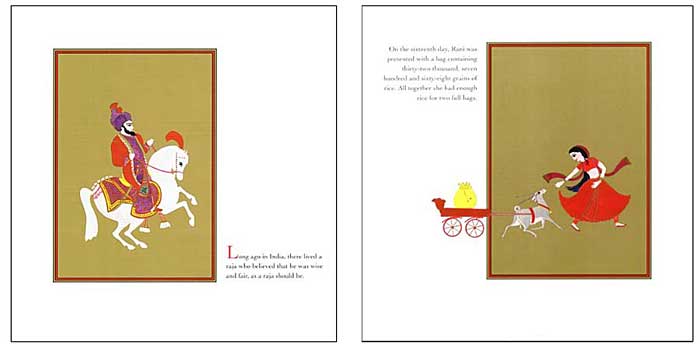 click here to see more pages or buy this book
---
The Grapes of Math 
Mind-Stretching Math Riddles by Greg Tang; illustrated by Harry Briggs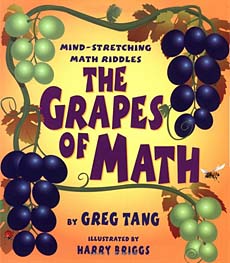 (2nd grade - 6th grade) The Grapes of Math is another fantastic Tang and Briggs production!  This book features 16 spreads that each pose math problems specifically aimed at challenging readers to think creatively and conceptually when solving the problem, rather than simply trying to count the items.
This book helps kids think more creatively when solving problems and helps kids make the transition from relying on addition to learning multiplication.  (more)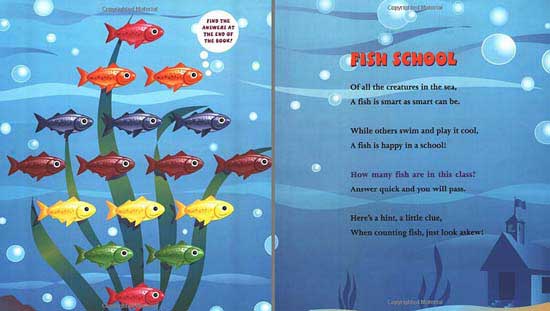 click here to see more pages or buy this book
 List Continued

page 1     page 2


Enjoy the books!
Betsy, Cindy, and Virginia (the teachers/sisters behind this website)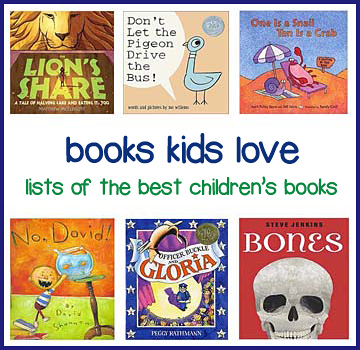 Enjoy our Facebook Feed Here