Books That Teach Adverbs
If you teach adverbs, the following children's books can help -- adding a little fun and some 'real world' examples to your lessons. Nothing like seeing it in action. If you have students who are struggling with adverbs, hopefully one or more of the books below can help. They were written specifically for this purpose. :)   Adverbs can be a tricky for kids. Actually, they are even tricky for many adults. For example, how many times have you seen 'ly' incorrectly omitted in commercial signage, like: "Slippery surface. Walk slow."  Maybe teachers should carry Sharpies!  We must save the adverbs. :)
For other parts of speech, visit our list of books for teaching language arts.


---

If You Were an Adverb by Michael Dahl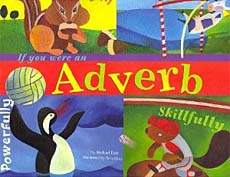 In this charmingly illustrated book, readers learn about what adverbs are and when and how to use them. For example, "Verbs tell us something happened. If you were an adverb, you could tell us how something happened. The snowboarder skied GRACEFULLY down the mountainside but he fell AWKWARDLY at the bottom."  Includes a glossary, a game that helps teach adverbs, and suggested websites.  Another hit in the Word Fun series.

Interest Level:  1st grade - 4th grade

---

Suddenly Alligator: Adventure in Adverbs

A young boy decides that after three months of wearing the same pair of socks, it's time to buy a new pair. So, he heads into town through the swamp but has a frightening encounter with an alligator. What will he do?  This book was written specifically to teaching adverbs, and indeed the text is "replete with adverbs" making it "a useful read-aloud when introducing a unit on the parts of speech." (School Library Journal)
Interest Level:  1st grade - 4th grade  /  DRA:  20  /  Lexile: 570L   /  Guided Rdg:  L  /  Grade Equiv.   2.4

---

Dearly, Nearly, Insincerely: What is an Adverb?
With the same liveliness and zaniness of their previous books, Cleary and Gable are back, this time to teach adverbs. Bouncy verses define adverbs ("Adverbs tell us when and how, / Like, quickly do your homework, now") and then give a seemingly endless list of examples which are printed in color to make them stand out from the text. School Library Journal said "The energy and sheer razzmatazz...will have young grammarians entranced." And Kirkus Reviews commended it for "...effectively explaining a potentially boring subject through a bouncy rhyming text filled with puns and jokes that will appeal to kids." 

Interest Level:  Grade 2-5  /   DRA: 34 /   Lexile:  860L  / Guided Rdg: O  / Grade Equiv.:  3.7
---

Lazily, Crazily, Just a Bit Nasally: More About Adverbs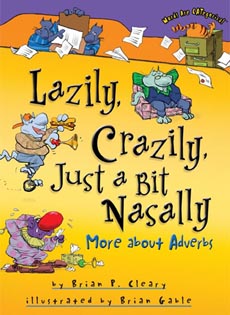 The Words are Categorical series team is back with another "jolly treatment of the topic" (Booklist).  This book shows rather than just tells students what adverbs are and how to use them. As with its predecessor, this book features comical cartoon cats doing all manner of zany things. Rhyming verses are replete with adverbs that are color coded based on whether they convey when, where, how often... If you teach adverbs and are looking for lots of examples, this is a great pick!

Interest Level:   2nd grade - 4th grade

---

Up, Up and Away: A Book to Teach Adverbs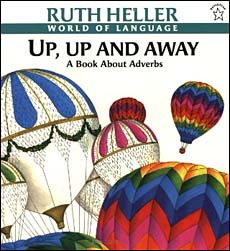 An introduction to adverbs, using bright, oversized illustrations, in Ruth Heller's trademark stye.  A lot of ground is covered in this book, from a basic introduction to adverbs all the way to superlatives, irregular adverbs, and double negatives." (Too much for one book?  We're undecided).  Fans of the World of Language series will definitely want this book as well.  In their review, Booklist said "using expansive color drawings and catchy rhymes, Heller writes about words frequently and vividly and with an unmistakable flourish...A clever introduction."

Interest Level:  2nd grade - 4th grade  /  Grade Equivalent: 3.1   /   Lexile Measure: 480L 
---

The Big Problem: Understanding Adjectives and Adverbs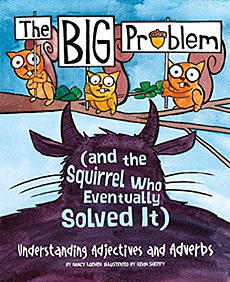 In The Big Problem (and the Squirrel Who Eventually Solved It), the squirrels have a problem. A BIG, POLKA-DOTTED problem. And they're watching NERVOUSLY, CURIOUSLY to see what it will do next. This goofy little story, complemented by informational back matter, is great to use if you teach adverbs and/or adjectives.  This book is part of the "Language on the Loose" series.

Interest Level:  2nd grade - 4th grade
---

Tillie's Tuba (Grammar Tales series)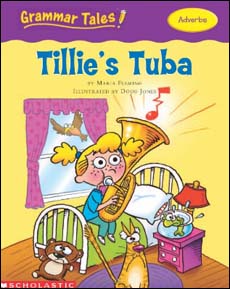 Tillie plays her tuba loudly. She plays her tuba proudly.  She plays it early and late, day and night. Learn all about adverbs in this wacky tale about a girl and the tuba she just can't put down. Pages include small call-out boxes that help further teach adverbs -- what they are, how they are used to create great writing, and asks questions to check understanding.

This book is part of Scholastic's Grammar Tales series of funny stories designed to help kids grasp the essential rules of grammar.  These are actually really great resources for teachers!

Interest Level:  2nd grade - 4th grade

---

The Maestro Plays by Bill Martin Jr.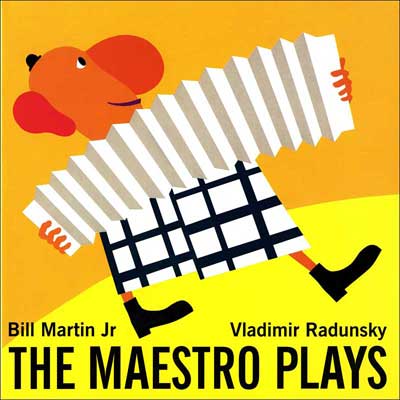 This playful tribute to adverbs is full of vibrant cut-paper illustrations and features a clown--the Maestro--who plays a progression of instruments flowingly, glowingly, knowingly...  "The book's mischievous type, rompish rhyme and dazzling colors will keep youngsters turning the pages... quickly, contentedly, repeatedly." (Publisher's Weekly) This could be a fun book to supplement your adverb lesson plans, since "Martin achieves most of his rhymes by using adverbs ending in 'ly.' Thus the musician plays at various times 'proudly,' 'loudly,' 'dizzily' or 'wildly.' An infectious rhythm builds, at times lapsing into nonsense, but resulting in an almost perfect coupling of text and illustration." (School Library Journal)
Interest Level:  2nd grade - 4th grade 
---
Enjoy the books!
Betsy, Cindy, and Virginia (the teachers/sisters behind this website)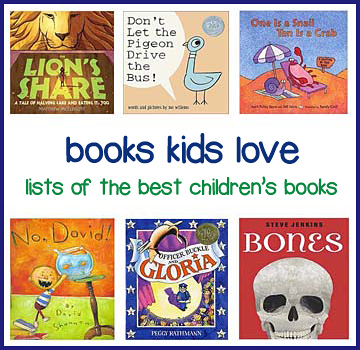 Enjoy our Facebook Feed Here