We think teaching correct punctuation rules is actually pretty fun. Do you? Okay, maybe we're weird, but we think it can be a hoot. Goodness, some kids really struggle with correct punctuation-- not only using it correctly in their own writing, but also grasping how the meaning of what they are trying to say can be radically altered depending on punctuation usage.
Children's books like the ones below can be a great tool for teaching correct usage...and the pitfalls of incorrect usage.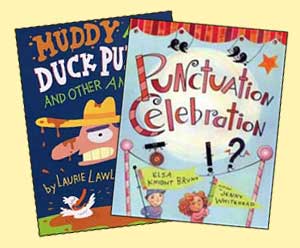 BIG SAVINGS! Check out our
SALE books for teaching language arts
Just $2.75 each! Save 50% off retail!  These books are a perfect supplement for making language arts lessons so much fun!