Best Pirate Books
for Kids

Below are some fun pirate books for children in Kindergarten through 2nd grade. You don't exactly have to twist kids' arms to get them wanting to hear about pirates, especially when it's the fun, cartoony versions like in those below.
I think kids like how pirates disregarded the rules and societal conventions that they would never dare break themselves, or even want to. Kids find their 'bad behavior' funny and the authors and illustrators of kid's books have certainly capitalized on this. If your students like books full of naughtiness and grossness, you can hardly find a better genre than children's pirate books!
The interest age of the books increase as you move down the page. And, as you will notice, the cutesy factor also decreases as you move down! Kids in upper elementary school and middle school don't want that kiddie stuff. They want more realistic depictions and action-packed stories.

And, if you have a reluctant reader, ask if he or she likes the Pirates of the Caribbean movie series. Sometimes it takes a little Hollywood magic to jump start an interest, but it's likely books that take that interest to the next level.


best pirate books

Dirty Joe the Pirate
(pirates sail the seas looking for
their big treasure--smelly socks!)
by Bill Harley
Preschool - 2nd grade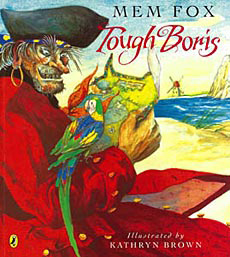 Tough Boris
(one boy discovers that pirates
may not be so mean after all)
by Mem Fox
Preschool - 2nd grade

Edward and the Pirates
(a boy who loves to read suddenly
finds himself in the pirate story)
by David McPhail
Preschool - 2nd grade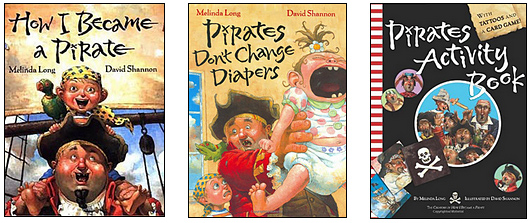 How I Became a Pirate series
Three titles: How I Became a Pirate, Pirates Don't Change
Diapers, and Pirate Activity Book
by Melinda Long & David Shannon
Preschool - 3rd grade

Roger, the Jolly Pirate
(Roger is "too happy" to be a serious
pirate...until he saves the day!)
by Brett Helquist
Kindergarten - 3rd grade

There Was an Old Pirate
Who Swallowed a Fish
(funny take on the familiar format)
by Jennifer Ward
Preschool - Grade 2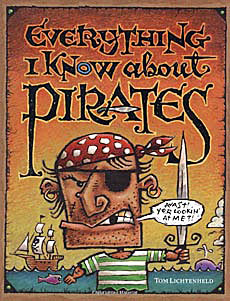 Everything I Know
About Pirates
(comical reference book)
by Tom Lichtenheld
Kindergarten - 2nd grade

Pirateology: The Pirate Hunter's Companion
plus two other series books: (1) The Pirateology Handbook: A Course
in Pirate Hunting and (2) Pirateology Guidebook & Model Set
by Dugald Steer
2nd grade - 6th grade

Pirates
by John Matthews
5th grade & Up

Pirates: Most Wanted
by John Matthews
5th grade & Up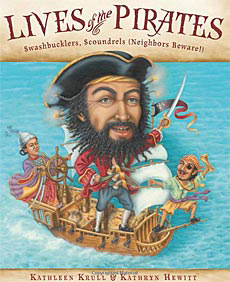 Lives of the Pirates
Swashbucklers, Scoundrels
(Neighbors Beware!)
by Kathleen Krull
4th grade - 7th grade

The Pirate Primer
Mastering the Language of
Swashbucklers & Rogues
6th grade & Up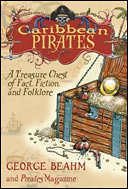 Caribbean Pirates: A Treasure Chest of Fact, Fiction and Folklore
Separates pirate facts from Hollywood fiction Loaded
with color photos by a former Disney Imagineer!  (Grade 4+)
chapter books about pirates

Below are some good chapter books sharing fictional or real stories about pirates for kids. If any of these books seem like a good fit for you, click the title link  Some of these connect to review pages by us and others connect directly to Amazon. Please note that if you purchase an item from Amazon, they give us a small referral fee. This helps pay for site hosting costs, thus allowing us to keep everything free for site visitors!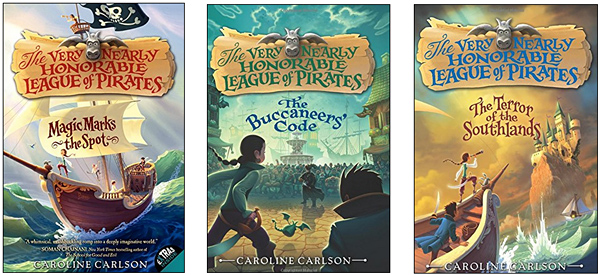 The Very Nearly Honorable League of Pirates series
Magic Marks the Spot , The Terror of the Southlands, The Buccaneers' Code
(a pirate series full of humor and action. We love the inclusion here and
there of letters, newspaper clippings, and maps. Fun stuff!)
by Caroline Carlson
3rd grade - 7th grade


Magic Tree House: Pirates Past Noon
This is a Magic Tree House perennial favorite, and how could it not be... it involves pirates and adventure and buried treasure! In this book, Jack and Annie are whisked back in time to a deserted island and right in the midst of a pirate treasure hunt. With the usual drama and suspense characteristic of this series, the two kids need to solve a dilemma (in this case, finding the buried treasure) without getting into too much trouble (being captured by pirates)!
And while (or after) your kids read this book, be sure to give them the companion guide about pirates as well. We love how this series pairs a page-turning fictional book with a related and equally compelling non-fiction book. With all the built-up excitement about the topic, kids learn so much more...and it's great for early exposure to these two different kinds of writing (fiction and informational texts).  (1st grade - 4th grade)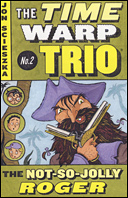 The Not-So-Jolly Roger
The Time Warp Trio boys are back! This time they find themselves on a desert island, and soon run into the dreaded pirate Blackbeard, who captures them and takes them aboard his ship. On board, they witness pirate life and an exciting battle. In a starred review, School Library Journal promises "tongue-in-cheek humor,...understatement and wordplay makes for laugh-out-loud reading."  (3rd grade - 6th grade)

Isle of Swords  and  Island of Fire
Isle of Swords: A high seas adventure featuring a lost young man with no memory of who he is, a Captain on a desperate search for riches, and a ruthless pirate out to find a fabled treasure hidden by monks. Throw in an erupting volcano, a sea creature, and massive storms. What a page turner!
Isle of Fire: This sequel to Isle of Swords continues Cat's story, after his memory has returned, and a new fleet sets out to hunt down the pirates. When a huge hurricane blasts the region, who will survive?
Two additional pirate books are rumored to be in the works. We'll stay on the look out! :)

5th grade - 8th grade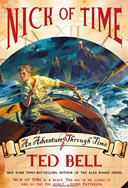 Nick of Time: An Adventure Through Time
12-year-old boy Nick can't believe his luck when he finds a sea chest with a curious shining globe inside that turns out to be a time travel device. But pirates from the past know about the globe and begin chasing Nick down to get it. Desperate to outrun the pirates, Nick bounces through time and ends up fighting not only pirates, but also Napoleon's forces and Nazi spies.   (6th grade - 9th grade)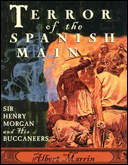 Terror of the Spanish Main: Sir Henry Morgan & His Buccaneers
Buccaneer Sir Henry Morgan was the legendary leader of raids on Spanish New World settlements, and was even knighted for his thievery. This book proves that fact is sometimes stranger than fiction! "Not for the weak of stomach...this gripping and complex historical drama [is] impossible to put down" (Publ. Weekly). (6th grade & up)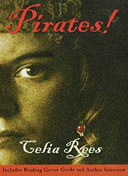 Pirates! by Celia Rees
Nancy, an orphan living on her family's plantation in Jamaica, is desperate to flee an arranged marriage, so she and one of the plantation slaves run off to join a band of pirates. Told through her writings, this book is great for students who, at a younger age, enjoyed Avi's The True Confessions of Charlotte Doyle. School Library Journal said this book is "oceans of adventure with a feminine twist."  (Grade 6+)