My Monster Mama Loves Me So

My Monster Mama Loves Me So
by Laura Leuck; illustrated by Mark Beuhner
In cute and clever rhyming verse, this title describes all the many ways that monster mamas love their little ones!
The pictures are ADORABLE and we love the funny rhymes ("She gives me great big hairy hugs, bakes me cookies filled with bugs, and when I'm sick she's twice as nice, she gives me lizard juice with ice.")

School Library Journal ended their positive review of this book by saying "Leuck delivers a reassuring message in a funny, mildly scary story. Perfect for storytimes."

Reading Level
Interest Level:  Kindergarten - Grade 2
Grade Level Equivalent:  2.8
Guided Reading Level:  F   
DRA Level: 10
Lexile Measure: 890L

Below are sample pages from inside this cute book.  The text in the first spread reads "My Monster mama loves me so!  Let me tell you how I know." And the second spread reads "When I wake up, she tweaks my nose, tickles all my pointy toes, combs the cobwebs from my bangs, and makes sure that I brush my fangs."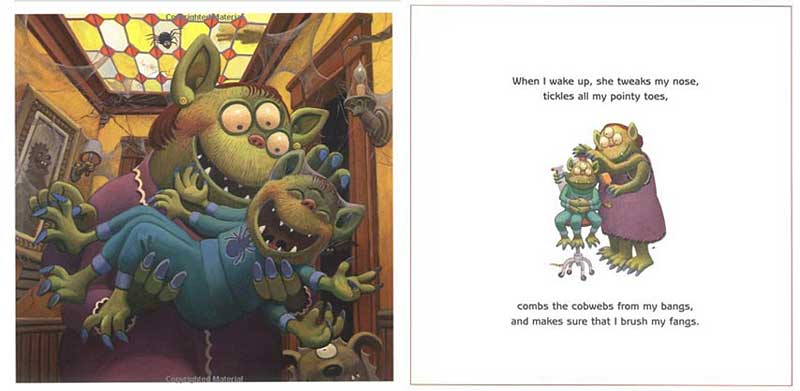 Activity for My Monster Mama Loves Me So

If you teach little kids, it could be fun to follow a read aloud of this book with a cute writing prompt / craftivity like the one shown at right.  We found this cute idea at the blog "Crafty Morning" and had a blast doing this without kids last year after reading the book. You can find the full write up on doing this activity here:  My Monster Mama Loves Me So activity / craft

We followed her great directions, with a few alterations, since we were doing it with a classroom full of kids:

an outline of the monster on orange paper (just to be sure they get the size big enough for the candy corn teeth)
the black mouth precut (again, it has to be the right size in order for the candy corn teeth to work)
pieces of white, black and green paper for the kids to create their own horns, eyeballs, and feet

LOTS of candy, since it's just cruel to make them glue down candy unless they are getting lots to eat as well  :)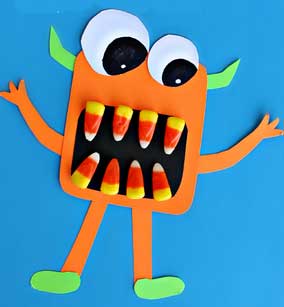 At this point in the year, we are working on writing fiction stories, so our writing prompt to go with this activity is just to have the kids write a few sentences about the monster they made.  (ie: "My monster's name is Bert. He like to eat pizza.")




---
Click to see more books from our best Halloween kids books list?