Moon Landing:
Apollo 11 40th Anniversary

Pop-Up

Book

by Richard Platt
illustrated by David Hawcock
This stunning engineered book tells the history of lunar exploration with the aid of sturdy foldouts and pop-ups. More than just novelty features, the pop- ups effectively show the mechanics of rockets, the lunar module, a spaceship, etc...

Don't let the 'pop- up book' label fool you. This book packs in a LOT of information about the moon and space travel, making it "a first rate choice." (School Library Journal)

Interest Level:  all ages will enjoy this book but the text specifically targets Gr. 4-7
See Inside This Book

Below are sample spreads from inside this book.  We wish we had more samples because the pop-up aspect is PERFECT for this subject. Definitely check out this fabulous book.  And...we are happy to report that the paper sculptures are reasonably durable, so kids can look at this book unattended (although we use a "check out" system rather than just putting it in the class library -- helps kids be just a bit more careful if they feel they are personally responsible for the book).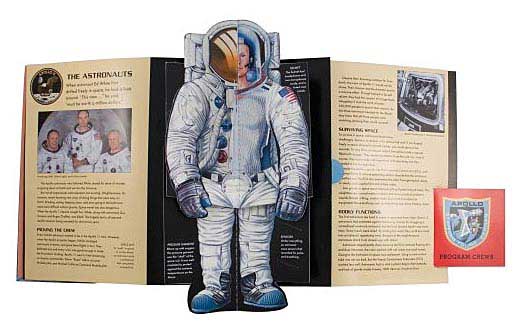 Where to now?
Now that you've seen this great book, what would you like to see now?  Please note that as an Amazon Associate, we earn from qualifying purchases.