Best Books on the Sun
& the Moon for Kids

Below are fun, education books on the moon for kids--covering topics like attributes and phases of the moon, moon landings... These books can make teaching and learning about our universe even more fun and effective.  With improvements in space technologies, we now have breathtaking photographs that allow us to see the moon 'up close and personal.'  Many of the books below include these stunning images! 
The list below of space books for kids includes links to buy the books on Amazon.  Or, to save 50% or more on math children's books, check out our list of sale books on space.  Our books are a great deal! All are used but are in great condition, some are even like new.


Books on the Sun & Moon for Kids
with links to buy on Amazon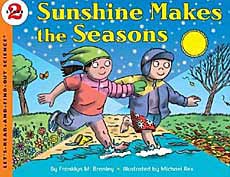 Sunshine Makes
the Seasons
Let's Read & Find Out Science
(explains how the earth's
rotation creates our seasons)
by Franklyn Branley
Kindergarten - 3rd grade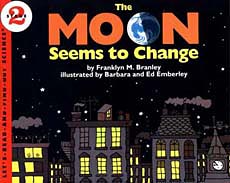 The Moon Seems
the Change 
Let's Read & Find Out Science
(explanation of moon phases)
by Franklyn Branley
Kindergarten - 3rd grade
What Makes Day
and Night
Let's Read & Find Out Science
(explains how earth's rotation
creates days and nights)
by Franklyn Branley
2nd grade - 3rd grade
The Sun
(shares the splendor of the
sun with large, crisp, full-
color illustrations)
by Seymour Simon
Kindergarten - 3rd grade