Magic School Bus
Human Body Books

Magic School Bus Explores the Senses
written by Joanna Cole and illustrated by Bruce Degen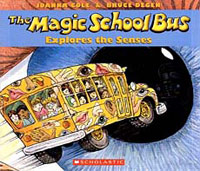 Another "fun, fact-filled adventure in the series" (School Library Journal), although this time it's Assistant Principal Mr. Wilde behind the wheel instead of Ms. Frizzle.
Join the gang as the travel through the senses of various living beings (ie: a police officer's eye, a dog's nose, a child's ear, and even Ms. Frizzle's mouth!)
This is one of the original ten series titles. Be sure to get a newer copy, as the re-released version has updated scientific information and better print quality.

Interest Level:  Gr. 2-5        DRA Level:  34-38       Lexile Measure: 490L



The Magic School Bus: Inside the Human Body
written by Joanna Cole and illustrated by Bruce Degen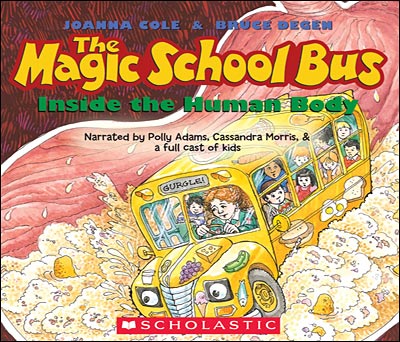 All aboard the Magic School Bus, as Mrs. Frizzle's class shrinks down and explores the inside of a classmate who has just swallowed them!  
This title covers all the basics in typical energetic fashion. The bus travels into a blood vessel for a view of plasma and red and white blood cells.

Students climb up bones, follow nerves to see how muscles work, etc... After all the action, the author ends with a true-false test to reinforce learning and ensure that students have correctly distinguished reality from fantasy.
Interest Level:  Gr. 1-4          DRA Level:  38              Lexile Measure: AD520L


See inside
Below is a sample from inside The Magic School Bus: Explores the Senses. Click to enlarge.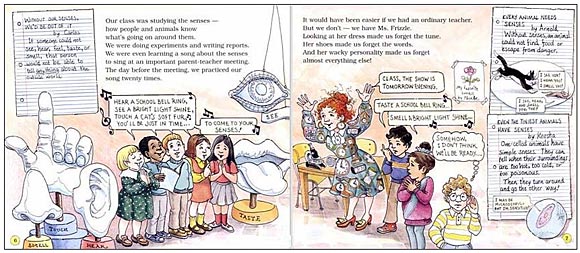 And here is a sample page from Magic School Bus Inside the Human Body:



Please note that if you purchase an item from Amazon, they give us a small referral fee. And that helps us cover the costs of this website.


---