Comets, Stars, the Moon, and Mars:
Space Poems and Paintings
by Douglas Florian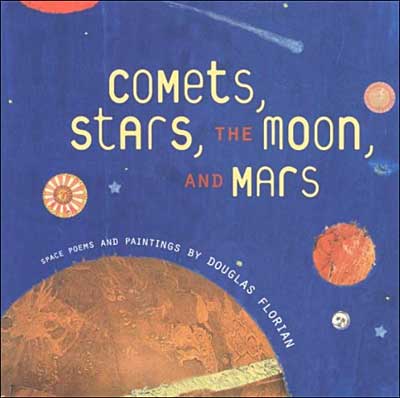 We are huge Florian fans, and here's one of his best!  On double page spreads, Florian combines a witty poem (in various poetic types) about an aspect of the cosmos with his trademark stunning collages that "depict the marvels of space with luminous texture and detail." (New York Times).
There's a poem in this book for pretty much any topic covered in a curriculum unit on space. Here is a list of the topics covered (copied from the table of contents):

skywatch

 

mercury

 

minor planets




pluto 

the universe

venus




jupiter

 
comets
a galaxy
the earth
saturn
constellations
solar system
the moon

uranus

black holes


the sun

 

mars



neptune


'the great beyond'

The back of the book also includes a 'galactic glossary' with paragraph descriptions of all 20 planetary bodies/space topics featured in the poems, plus a list for further reading (although--the books are quite advanced so really only appropriate for older students).
In a starred review, School Library Journal rightly said that this book "strikes the perfect balance between grandeur and whimsy" and continued on to say that the poems and illustrations "literally sing the music of the spheres." Like all Florian's books, this title is a brilliant addition to classroom libraries and curriculum units. We love Florian books!!!
Interest Level:  Grade 2-6            Grade Level Equiv:  2.6 


See Inside This Book

Here's a sample spread from inside Comets, Stars, the Moon, and Mars. This spread talks about and depicting different types of galaxies--like elliptical, egg shaped, spiral, irregular, ball shaped, flattened, and barred. We especially like how Florian uses the concrete poetic form at such clever and appropriate times!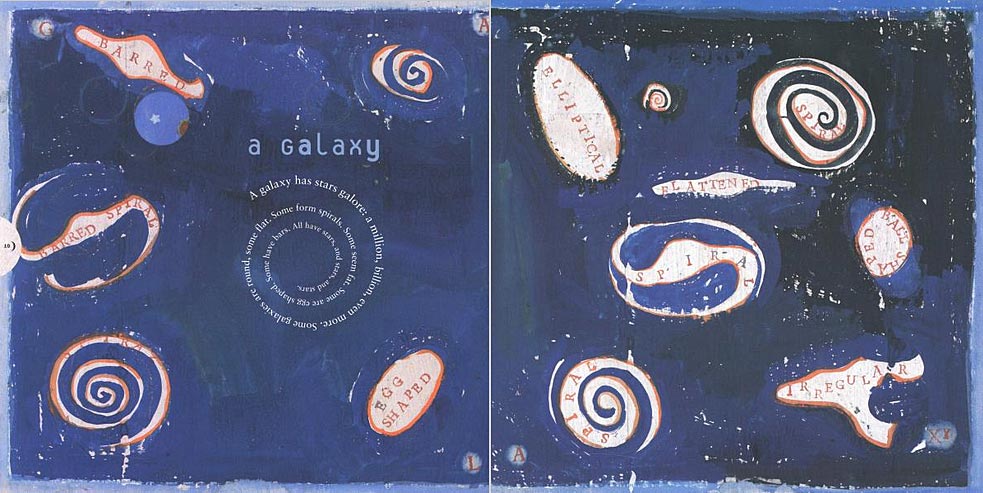 Where to now?
Now that you've seen this great book, what would you like to see now?  Please note that as an Amazon Associate, we earn from qualifying purchases.



You may also want to check out other books by Douglas Florian, such as those shown below. His poetry is so clever and off-beat, and his illustrations are spectacular!  To learn more, click on the images below or here.  :)