Charles Darwin & Evolution
best children's books

Below is a compilation of the best books on Charles Darwin and Evolution for children in K-Grade 8. Many children's books wisely use the life of Charles Darwin to explain evolution to the reader, while others take a more direct approach.
It remains to be seen where this subject will end up in the new national science common core (which, as of the date which we created this page, is still under development.) However, current science standards of many states include this subject in upper elementary and middle school, so we've compiled this list to help those teachers integrate children's books into their curriculum.
This is a controversial subject. We took great care to select only those books that depict Darwin's life and describe his theory in a factual manner (as opposed to books trying to passionately persuade the reader.) We think the following books will help students understand this challenging subject while also helping the teacher avoid any controversial ground.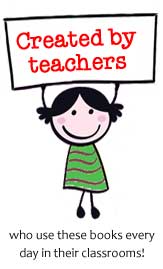 Books on Charles Darwin
and Evolution for kids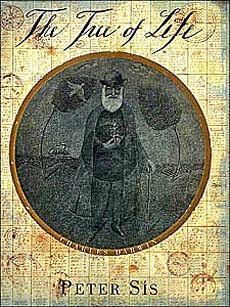 The Tree of Life
(biography largely told through
intricate, packed illustrations)
by Peter Sis
Grade 4 & Up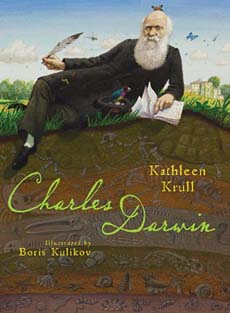 Charles Darwin
(well written, witty
biography, part of the
Giants of Science series)
by Kathleen Krull
5th grade & Up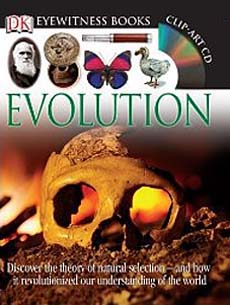 DK Eyewitness Evolution
(great resource with TONS of
info on evolution for kids via
trademark packed spreads)
by Linda Hamlin
6th grade & Up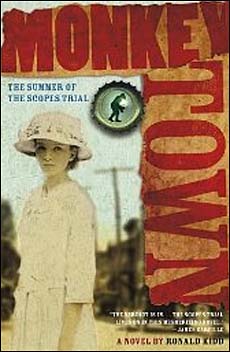 Monkey Town
(retelling of the 1925 Scopes
"Monkey Trial" through the
eyes of a 15-year-old girl)
by Ronald Kidd
6th grade & Up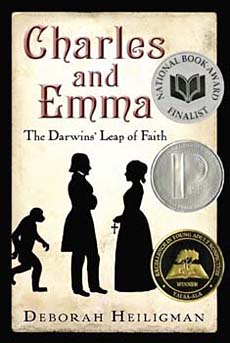 Charles and Emma
The Darwins' Leap of
Faith (Darwin's personal
life and its role on
his scientific discoveries)
by Deborah Heiligman
8th grade & Up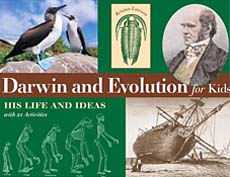 Darwin and
Evolution for Kids
His Life and Ideas with
21 Activities
by Kristan Lawson
5th grade - 9th grade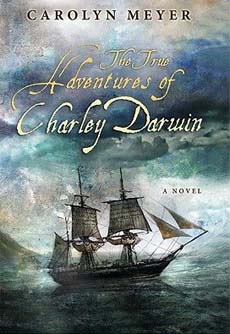 The True Adventures
of Charley Darwin
(part adventure, part bio
about Darwin's life from
childhood to the Beagle)
by Carolyn Meyer
6th grade - 10th grade

Why use children's books when teaching about Charles Darwin and Evolution?
Evolution is a particularly challenging subject for children to understand given the vast amounts of time involved. Indeed, the year between their birthdays often feels like an eternity! And, kids get confused by the idea that the adaptations are not conscious decisions, but rather due to survival of the fittest. Many teachers find it challenging to even choose the right words to explain this subject in age-appropriate ways. That's where children's books can be a great help. These books are full of illustrations and diagrams specifically created to aid young children in understanding this subject and explanations are carefully worded to maximize understanding at this young level.

Additionally, many children's books wisely use the life of Charles Darwin to explain evolution to the reader. Children often learn best through story, so using the story of how Charles Darwin developed the theory of evolution to actually teach the theory of evolution is an excellent method for aiding comprehension. The list above includes many excellent, kid-friendly biographies of Charles Darwin.