Zin! Zin! Zin! A Violin
by Lloyd Moss; illustrated by Marjorie Priceman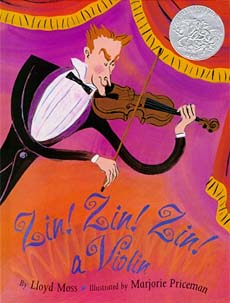 Zin! Zin! Zin! A Violin is a lively tribute to classical music and the musicians who play it with such passion. Jazzy verse, amusing characters, and alliterative sounds guide readers through ten different instruments in an orchestra. Try this one with your kids and open them up to the world of orchestra music.
Moss and Priceman have accomplished a very challenging task: they've made orchestra music fun and accessible to kids!  Priceman's whimsical, vibrantly colored illustrations are fantastic. In fact, PW called Priceman "a master of whimsy" and we agree!
Zin! Zin! Zin! A Violin is obviously great for introducing kids to the different orchestra instruments and the musicians who play them with passion. And, it would be a lot of fun during units on poetry.


This book has won a number of prestigious children's book awards, including:
  - Caldecott Honor Book 1996
  - American Library Association Notable Children's Books List
  - New York Times Best Illustrated Books List
  - School Library Journal Best Children's Books List

Interest Level:  Grades 1-5        
Grade Equivalent:  3.5         
Lexile Measure:  730L 


See Inside Zin! Zin! Zin! A Violin

Below are sample pages from Zin! Zin! Zin! A Violin.  Publisher's Weekly called illustrator Marjorie Priceman "a master of whimsy". So true! Her stylish, vibrant illustrations are full of energy and are truly the definition of whimsy. The fun color choice, the zany movements of the musicians, and the overall playful presentation help make orchestras more accessible for kids.  We especially love the spread on the right. It depicts the last instrument to join the orchestra---the harp. The text on this page reads, "The HARP descends with angel's wings, /  A heaven's belend through magic strings, / And when it joins the others, then / Behold! A CHAMBER GROUP of TEN."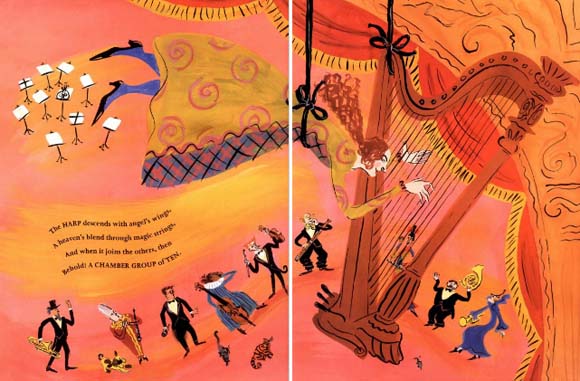 Lesson Idea for Zin Zin Zin

If you have a laptop with a good sound system, you could play small clips of the instruments being introduced in each page. This would be especially helpful if you are teaching music and orchestra instruments. The website Sound Junction makes this very easy: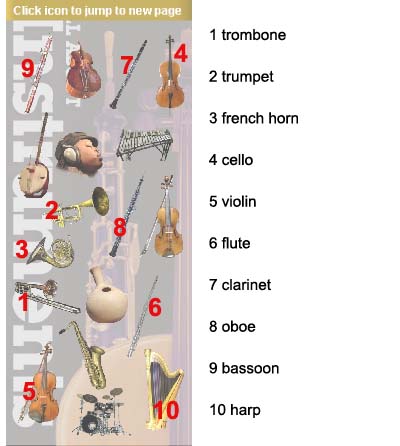 Click the link above and you will see a page with the following graphic on it.  When you mouse over certain instruments, your computer will play a short sample.  We have created a cheat-sheet for you so that as you read the book, you can quickly locate the instrument to play a sample for (they are listed in the order that they appear in the book.)

*Note: Just put your mouse on top of the instrument to get the sound. Don't click!  Clicking will take you to a page about that specific instrument. For this activity you want to stay on this page.

It would be ideal if you had an aide or classroom helper cued to add in the sound effects for you, as doing both might be a bit hard. We especially like that these clips are short and to the point...giving an idea of the unique sound that the instrument makes WITHOUT causing too much of a break in the book's text.  It's perfect for this application! (Special thanks to Sound Junction for their great website. Highly recommended!)
Where to now?
Now that you've seen this great book, what would you like to see now?  Please note that as an Amazon Associate, we earn from qualifying purchases.

---
This is a great book, but if it's not exactly the book you are looking for, you can see:
We love Marjorie Priceman's illustrations. Everyone does!  In fact, several have won Caldecott Awards (the most prestigious award in children's literature). Be sure to check our other books by Marjorie Priceman.