You Can Count on Monsters


by Richard Schwartz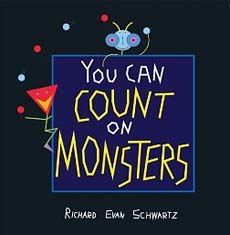 Our guess is that Richard Even Schwartz is a math guy by profession, not a children's book writer and illustrator.  To be frank, this book is a bit lacking in visual appeal. HOWEVER, that is more than made up for with the MATH being presented. 
Kids who just aren't getting factoring, primes, and composite numbers might just get it when they see it clearly presented in this book.

This book is a visual exploration of factoring, primes and composite numbers, with monsters as a guide. The intent of this book is to help readers gain an intuitive understanding of the building blocks of numbers and the basics of multiplication.
SLJ called it "both ambitious and imaginative...a book for math lovers who want to have some fun." And Publisher's Weekly said "for creative learners, visualizing the roles each monster plays may lead to deeper number sense.


Reading Levels       Interest Level:  Grade 4-8  

Peek Inside
Here are sample pages from this book. It's really more of a teaching aid than a storybook, but it does maintain a storyline (the monsters) that accompanies these visual representations of multiplication, and that makes the lesson more engaging. It's definitely not a book to buy for it's cute illustrations though. :)