York's Adventures with Lewis and Clark
An African-American's Part in the Great Expedition
by Rhoda Blumberg


An account of the expedition featuring York--the slave of Clark and the only African American on the expedition. York's strength, skills, and courage were written about frequently in the actual journals, and author Rhoda Blumberg drew from those to present engagingly told stories. In a starred review, Kirkus called it "fine writing…full of maps, sketches, portraits, & other archival materials …one of the best new works on the subject."

Awards Won
 - National Council of Social Studies Notable Children's Book  
 - National Council of Teachers of English Informational Book Award Winner

Reading Levels
Interest Level: Gr. 6-8                DRA Level: 60                  Lexile Measure: 1110L
Grade Equivalent: 6.8               Guided Reading: Y

Here are sample pages from inside York's Adventures with Lewis and Clark.  We realize you can't read the small text, but wanted to be clear that this book is text heavy (vs illustration heavy) and definitely for older children!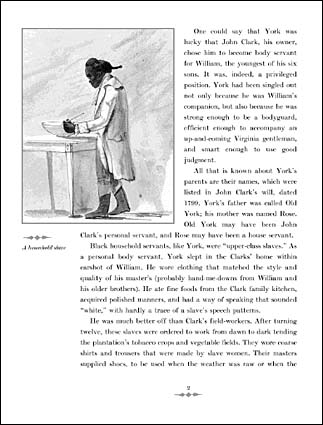 Where to now?
Now that you've seen this great book, what would you like to see now?  Please note that as an Amazon Associate, we earn from qualifying purchases.
SAVE BIG on kids history books with our...

SALE history books: just $2.75 each

Want to save 50%+ off retail? We sell children's American History books that are used but still in great shape! Perfect for teachers and parents.