Will You Sign Here,
John Hancock


Will You Sign Here, John Hancock
by Jean Fritz
illustrated by Trina Schart Hyman

This witty biography about founding father John Hancock portrays the man as a flashy, colorful character who desperately wanted to be noticed. He became the first president of the Continental Congress and was the first and boldest signer of the Declaration of Independence.
Full of the usual Jean Fritz humor, this book is a hit in the classroom.
If you teach US history and do not yet use Jean Fritz's books in your library or curriculum, you should check them out. She is "an original and lively thinker, as well as an inspiration to children and adults... undeniably a master of her craft." (Puffin)
Reading Levels

Interest Level: Gr. 3-5             DRA Level:  50                    Lexile Measure: 970L
Grade Level Equiv:  4.8         Guided Reading: T

See Inside This Book

Below are sample spreads from inside this book.  The book is clearly a bit dated, but it's still good.  We wish they'd update the interior pages like they did the cover!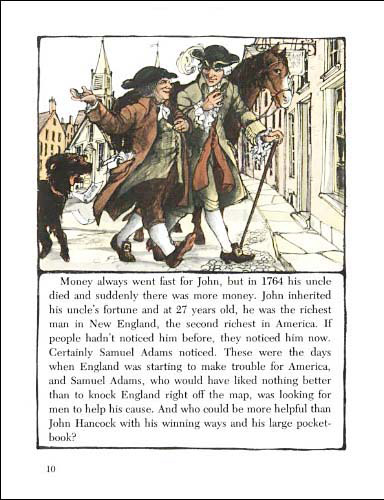 Where to now?
Now that you've seen this great book, what would you like to see now?  Please note that as an Amazon Associate, we earn from qualifying purchases.