Where's My Mummy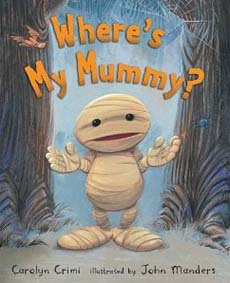 Where's My Mummy
by Carolyn Crimi; illustrated by John Manders
Little Mummy wants to play just one more game of hide-and-shriek with his Mama Mummy before going to bed, but the dark night is full of mysterious sounds and unknown creatures.Who will comfort Little Mummy if someone gives him a scare? Why Mama Mummy, of course.
ADORABLE illustrations and a little bit of suspense make this a perfect Halloween treat.
This is just the right mixture of spooky and cute for little ones.  School Library Journal ended their review of this book by calling it " A reassuring offering for youngsters who want just a touch of the shivers."  We agree!  Kids will have the fun feeling that they've just experienced a 'scary' story, but no one will end up scared. :)

* An International Reading Association Children's Choice Book!  


Where's My Mummy Reading Levels

Interest Level:    Preschool - 1st grade
Grade Level Equivalent:    2.7   (2nd grade, 7th month)
Lexile Measure:   AD560L


Below are two sample spreads from early in the book. Is that just the cutest mummy ever!  And check out mama -- she's got some mummy curves going. :)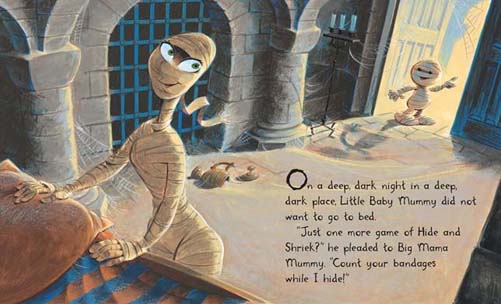 In case you cant read it, the text reads "On a deep, dark night in a deep, dark place, Little Baby Mummy did not want to go to bed. " Just one more game of Hide and Shriek?" he pleaded to Big Mama Mummy. "Count your bandages while I hide!"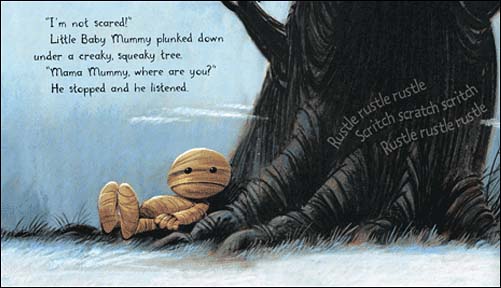 "I'm not scared!" Little Baby Mummy plunked down under a creak, squeaky tree. " Mama Mummy, where are you?"  He stopped and he listened.  Rustle rustle rustle. Scritch scratch scritch. Rustle rustle rustle.
Where's My Mummy Activity

We read Where's My Mummy to our classes every year at Halloween time. Then, we usually do the following writing/art activity immediately afterward. If you teach younger grades or have children this age yourself, try this cute related activity from the blog First Grade Parade. Other than construction paper, all you'll need is
white paper plates
white crepe paper

cut in strips

  (although one year we forgot to buy it so we used

adding tape paper and it was fine. Crepe paper gives a better mummy look, but likely requires a trip to the store. And who needs that. :) Regular strips of white paper

would likely be fine as well.)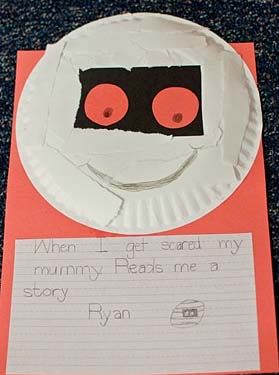 We use the writing prompt suggested on the blog: "When I get stared, my mummy..."  (Be sure to talk about the play on words, so that kids don't misunderstand and think that mommy is really spelled with a u!


Where to now?
Now that you've seen this great book, what would you like to see now?  Please note that as an Amazon Associate, we earn from qualifying purchases.

---
Want to see more books from our best Halloween kids books list?