When a Line Bends
a Shape Begins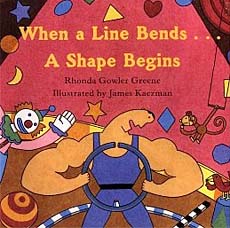 by Rhoda Gowler Greene
illustrated by James Kaczman
In When a Line Bends A Shape Begins, bouncy verses describe and show 10 shapes that can be created by the simple bending of a line. Each vibrant spread is devoted to a different shape and is packed with examples. Shapes include squares, ovals, rectangles, triangles, diamonds, circles, stars, crescents, hearts, and octagons.

The illustrations are adorable, and the many real-world examples help kids see shapes in the world all around them.  Publishers Weekly called it a "clever and fun introduction to assorted shapes" and School Library Journal called it "a fine addition to units on shapes and a perky read aloud."


Reading Levels
Interest Level:   PreK-Gr. 2          DRA Level:  16                Lexile Measure: 710L  
Grade Equivalent:    5.2               Guided Reading: M


Peek Inside
Below are sample spreads from inside this book.  The first spread is devoted to squares. The text references the examples of squares included in the illustration. Kids will love finding the different examples as your read the rhyme.

To learn more about this book, click the link below.  Please note that if you purchase an item from Amazon, they give us a small referral fee. (This helps pay for site hosting costs, thus allowing us to keep everything free for site visitors!)



Lesson Ideas for When a Line Bends a Shape Begins:

The author of this book provides some suggested extension activities:

-Make a shape picture. Using shapes cut in various sizes, have the students create an object (boat, house, train, car, etc.), animal, or person…
-Have a shape feast. Serve snacks that are in various shapes, like (line - spaghetti, licorice, pretzel sticks or rods, square - crackers, cheese cubes…
-Make a shape mobile--Have students cut shapes from brightly colored construction paper. Tie different lengths of yarn or string from a hanger…   
-Take a shape walk--Take a walk through the building or outside and have the students tell how many different shapes they see in everyday things around them.

To access the full instructions for these activities, visit the author's website here.

---
Check out the other great children's books about shapes: