When Sophie Gets Angry-- Really, Really, Angry...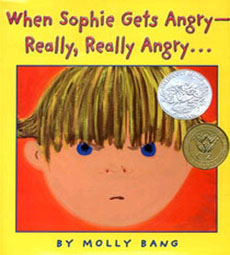 by Molly Bang
When Sophie gets angry, she kicks and screams and roars, and then she runs into the nearby woods. On her own in the serene environment, she soon calms down and eventually returns to her family, where "everything's back together again."
Bang has perfectly captured a child's fit of anger--that NO fair, I'm-going-to-explode anger.
In fact, Bang brilliantly captures the intensity of Sophie's range of emotions through her varying use of hot (angry) and cool (calm) colors as well as her thick brushstrokes full of movement. Truthfully, the message to run away when you are angry is a bit concerning, and probably needs a bit of discussion afterward. But aside from that, this book exudes emotion and is a very useful lead in to discussions on how to deal with anger.


Awards Won
- Caldecott Honor 2000
- American Library Association Notable Children's Book 2000
- Charlotte Zolotow Award / Jane Adams Honor 2000


Reading Levels
Interest Level: PreS-Gr. 2          DRA Level: 18               Lexile Measure: BR60L
Grade Equivalent:  1.9              Guided Reading: K


See inside
Below are sample pages. Bang brilliantly captures the child's emotions via color choice and strong brushstrokes. The intensity of Sophie's angry feelings is shown in strong brush strokes and bright red, orange, and purple, as in the pages below.




By contrast, cool blues and greens are used in this attractive spread that shows a calmed-down Sophie, who has had some time away, time to think and calm down. This is our favorite spread in the book. In fact, we've decided we want to go there in person! :)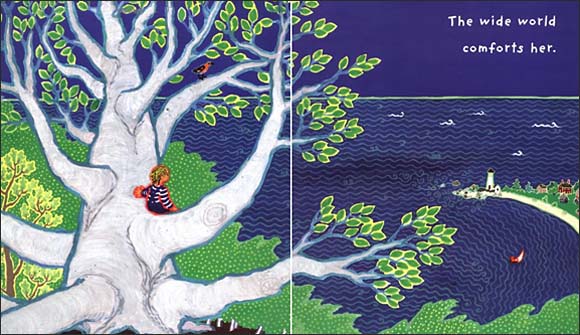 ---


You may also want to check out other books by Molly Bang, such as those shown below. To learn more, click on the book covers below or the link above.