What's It Like to Be a Fish?
by Wendy Pfeffer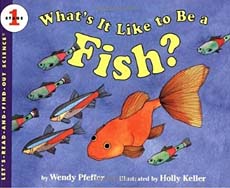 What's It Like to Be a Fish?
by Wendy Pfeffer; illustrated by Holly Keller
What's it like to be a fish? That's certainly a question most children (and adults) have wondered. Luckily, this book provides simple answers using perhaps the most familiar type of fish there is---a pet goldfish. Pfeffer explains how these fish feed, breathe, swim, and rest in water, all in an easy to understand manner. Readers learn the purpose of scales, why fish can breathe underwater and humans can't, and why slime is actually a good thing for fish.  Additionally, "the book design is open and inviting, and Keller's brilliantly colored fish swim through pages washed in aquatic blue and green." (Booklist)

This book is part of a science picture book series called Lets Read and Find Out Science. Since we have a lot of books from this series on different booklists on this site, we've created two dedicated pages listing series titles that we've reviewed so far. To see those lists, please click the link above.
Interest Level:  K-Gr.3     DRA Level: 24
Reading Level: age 4-8     Lexile Measure: AD680L

Below is a sample spread from inside this book. Given that the book is about goldfish and therefore all the pages feature--you guessed it--goldfish, the illustrations aren't really dazzlers. Keller did a great job with the limited subject matter, it's just...well...you should get this book for the interesting information and educational illustrations, not for a dazzling look at the beauty of life in our oceans. That's not what this book is about. (However, if that's what you are looking for, click here and check out the other books on the list. Most are quite stunning.)

Please note that if you purchase an item from Amazon, they give us a small referral fee. And that helps us cover the costs of this website.