What To Do About Alice?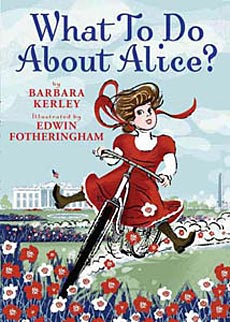 What To Do About Alice? How Alice Roosevelt Broke the Rules, Charmed the World, and Drove Her Father Teddy Crazy!
by Barbara Kerley
illustrated by Edwin Fotheringham
President Roosevelt's daughter Alice was exuberant, strong-willed, devilishly smart, and adventurous. Her father called her behavior "running riot."  She called it "eating up the world".

This book provides a fun peek inside the White House through the eyes of a rambunctious young girl. And by portraying Roosevelt in his role as a father, children (who most often see men firstly as fathers) can better relate to him and see him as a real person.
Alice is pretty naughty when it comes right down to it.  She is portrayed as a "spirited" girl who loved life, which is surely partially true, but adults will also understand that she was likely acting out to get attention and love, especially since her mother had died and her father was, of course, incredibly busy.  Whether kids pick up on this is uncertain.  But as adults reading this book, we did wonder if perhaps a too rosy picture was being painted of what was perhaps a very sad, confused childhood.
But we digress. :)  This website is about books that appeal to children. And... children get a kick out of Alice, and will definitely remember Theodore, the long- suffering parent / president dealing with this active child. And...
This book got "starred reviews" from Booklist, Kirkus, and School Library Journal. Check it out.... you'll like it. :)

Reading Levels

Interest Level:  Gr. 2-5                 DRA Level:  40                   Lexile Measure: 800L
Grade Level Equiv:  5.3              Guided Reading: R

See Inside This Book

Below are sample spreads from inside this book.  To see larger versions of these spreads, simply click on the images or click here.

Please note that if you purchase an item from Amazon, they give us a small referral fee. And that helps us cover the costs of this website.


---